Chicklet, Busling, and I took a recent Link excursion to the Beacon Hill Library. We went to attend an event, but I was mostly just looking for an excuse to get the BH stamp on my library passport (and yes, I'm still working on that).
I ride the train very infrequently, but every time I do, I wish I had the opportunity to do so more often. The reasons aren't particularly unique, but I'm going to share them nonetheless.
– I don't need a schedule. Trains are frequent and (unlike buses) don't often experience delays. I love just showing up at the station knowing I won't be waiting more than a few minutes.
– It's easy to board with kids. Stroller or no, bus stairs are no fun with little ones.
– Trains are fast and cool. (I'm not the only one who thinks so. Chicklet is an absolute train fanatic. I need to introduce her to the STB guys.)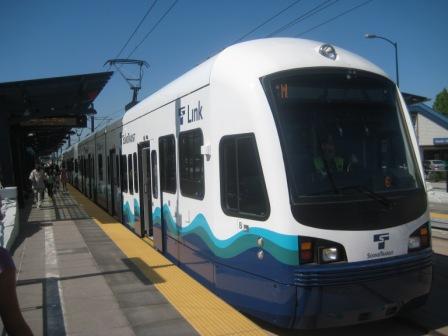 Of course, nothing's perfect…
Many months after my initial rides, I still think the payment process is confusing and puts too much burden on the rider. Infrequent riders (especially distracted or busy infrequent riders like me) aren't going to remember that they have to swipe before and after they ride–especially when the card swiping machines aren't anywhere near the train. We forgot to pre-swipe at Pioneer Square Station and missed the train schlepping back up the escalator to do so. We also forgot to post-swipe on our way out of Beacon Hill Station and made the machine mad by double-swiping upon our return. I'm still not exactly sure how much I was charged.
If you're going to penalize folks for not paying, the process should be idiot proof.
Ah, well. I suppose I'll get the hang of it with a little more practice. Here's hoping I won't have to wait long for another opportunity.