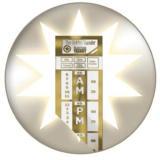 This month's Golden Transfer goes to Bob Ferguson, King County Councilmember for District 1 and all-around bus booster. Ordinarily, I don't play favorites with council members (except that I'm partial to my own), but in this case, I've decided to make an exception.
You might recall that Councilmember Ferguson (aka Bob) took the time to send us the scoop about the new reader boards and additional shelters. He understands the importance of changes like these, and not just because bus-riding voters appreciate them. Bob believes in transit, and he demonstrates that belief by riding the bus (the 41 from Northgate) to work every day. (I'm guessing that if he chose to drive, he'd get a pretty sweet deal on parking.)
Bob also demonstrates his interest in transit by his membership on the Council's Transportation Committee, which, as you might imagine, reviews and makes recommendations about County transit policies.
And speaking of committees…
Earlier this month, Bob sent a member of his staff to sit in on the monthly meeting of the Transit Advisory Committee, a group of regular, bus-riding citizens who advise the Council and Metro staff on "transit issues and policies." As one of the regular, bus riding citizens on the committee, I was pleased to see that he was interested not only in our formal recommendations, but also in our discussion and our individual perspectives.
And then there was the picture on one of his recent e-newsletters:
Thanks, Bob, for demonstrating a true commitment to the transit system you govern–by listening to the voices of the people who use it, and, especially, by using it yourself.