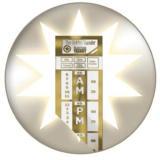 This month's Golden Transfer* goes to Laila B., a Wedgewood resident and fellow TAC member who managed to complete her entire library passport by bus. That's right–Laila, accompanied by her two-year old grandson, Leo, took Metro to all 27 of the public libraries in Seattle. They did it in time for the January 2nd deadline, though was touch and go near the end. Says Laila:
On the Friday 2 January deadline day I still had three libraries left to visit (snow caused delay) — all quite a distance away from where I live in North Seattle: South Park, Beacon Hill, and New Holly. But four hours and eight bus rides (65,49,60,60,36,106,510,73) later we had made it back home for Leo's nap and had turned in the completed form at the Central Library downtown.
Now if that ain't deserving of an award, I don't know what is. Apparently, the folks at SPL agreed with me; Laila was one of the winners in the prize drawing. She didn't win lunch with the city librarian (this library lover's fantasy prize), but she did get a goodie bag. (Correction, 2/4: Turns out, she did win a date with Susan Hildreth; all four drawing winners get to meet her.)
Like me, Laila was impressed by the passport program's support of bus travel.
[I] had wanted to mention at the drawing interview that I'd visited all the libraries via Metro, but they went on to the next person before I had a chance to do so. I did, however, mention to the couple who started the project, Marsha Donaldson and Bill Ferris, on the special Libraries for All day back in October, how pleased I was that Metro routes were included in the description and addresses all the libraries.
(Marsha and Bill: Thank you!)
Unfortunately, Chicklet and I were not as successful at completing our passports as Laila and Leo. We petered out just shy of the halfway point**–in part because of weather setbacks, but mostly because I got sidetracked by other obligations. The good news is, the program hasn't ended. There won't be any more prize drawings, but, according to Laila, anyone who turns in a completed passport will get a signed certificate.*** How does she know this? She volunteers at the Central Library one afternoon a week.
Thanks, Laila, for your support of the bus and the library, but also for giving your grandson a heck of an experience in Fall '08/Winter '09. Here's hoping some of it sticks with him.
*Yes, I know it's been a few months since I've awarded a GT. Sue me.
**13 libraries: Central (27), Ballard (27 + 17), Capitol Hill (8), Columbia (48), Douglass-Truth (no bus necessary), Green Lake (48), Greenwood (48), Sally Goldmark (short walk + 3), Montlake (48—-Anyone picking up on a theme?), Northgate (27 + 41), Queen Anne (27 + 2), Rainier Beach (48), and West Seattle (27 + 55)
*** And you know how we library geeks love certificates. Chicklet can put hers next to the one she got for completing the summer reading program last July.