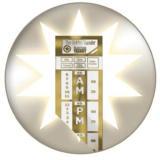 This month's Golden Transfer goes to Sue Mariconda (aka "Susiepooh"), a New York City native who sold her car earlier this month (on 11/14, to be exact), and (wisely) signed up for the city's One Less Car Challenge. Here's what she had to say about her decision:
I didn't even have a drivers license until I was 23 … didn't even own a car until I was 30. Then I met a guy in NJ in the suburbs and needed a car. I became a car addict and drove places I certainly could've walked to or taken the bus to. Two years ago we moved out here and were living in Lynnwood, which is also a very car obsessed suburb … I got to work by bus (CT413) but still had to drive to the park & ride …

We moved to West Seattle right on the 120 route in March. I was very excited to not have to take my car out to go to work at all. Then it just sat there. I figured I was averaging 4,000 miles a year, and it was hardly worth holding on to it. When the apartment management decided to start charging $25 for the extra parking spot (monthly) … I finally decided to get rid of the car.
West Seattle is, apparently, a good training ground for bus chicks. Less than two weeks after taking the plunge, Sue has already graduated to advanced bus riding skills.
My husband has a car also, and I realized that most of the places I go to are either reachable by bus, or I'm carpooling with him somewhere. So I thought we'd be able to coordinate our schedules. But I've been very impressed with myself that even though he's away on business and the car is in the garage, ready for me to use, I still took the bus today to the West Seattle Junction (120/128) to run some errands.
She's even made a few discoveries that might prove useful to the rest of us.
I … got myself a nifty bus chick bag (Victorinox Flex Mini Backpack in red) that converts to a messenger bag if I so wish, is low profile, and holds my gazillion bus maps and supplies for while I'm on the run. Then I found these cool snowflake shaped reflectors online at pedsafe.com so I can stay safe while out at night walking to and from buses.
Welcome to the fold, Sue. We're very happy to have you.