I'm just going to say it: 2017 was trash. Black women — both my own loved ones and those courageous souls who stood up to evil in the public sphere — were primarily responsible for keeping me sane this year. Other than that, it was bus drivers.*
As you probably already know, bus drivers are my version of superheroes. I am consistently awed by their kindness and humor and professionalism. (And yeah, I have had more than a few bus crushes on drivers.) Here are a couple of recent examples of the goodness they add to my life.
Thursday before last, Chicklet had a restroom emergency on the 48. By the time we reached our stop, she was approaching panic mode, and we hustled off the bus in a bit of a distracted state. Somehow, in the commotion, my phone fell out of my coat pocket. I realized I had dropped it just as the bus was driving away.
WOMP.
After we made it home, I tried calling the phone a few times in case there was someone sitting near it, but no one answered. I kicked myself for my mistake, filed a lost item report on Metro's website, and let it go.
When Bus Nerd arrived home, I filled him in on our (mis)adventure. Ever the problem solver, he texted my phone with a message for whomever found it to please call his number. I wasn't optimistic that this would work, since, like most people, I have a password on my phone. Miraculously, about 20 minutes later, Bus Nerd got a call. The 48 driver had found the phone! He let Bus Nerd know when he would pass through our neighborhood again so that someone could meet the bus and get it. Like the last time I lost something important on the 48, my beloved was kind enough to handle the retrieval.
I still have no idea how the driver saw the text (was he holding the phone at the exact right moment?); there was no time to ask during the quick exchange. But superheroes can do anything, right?
A few days after the miraculous phone recovery, this delightful human drove the 27 I rode home from a Saturday morning appointment.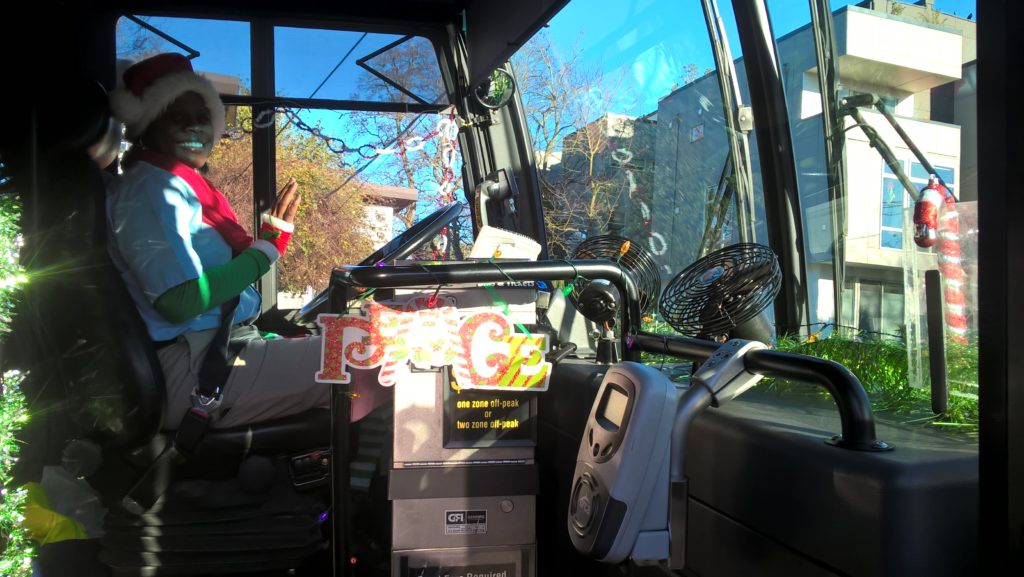 She had left a sweet surprise on every seat.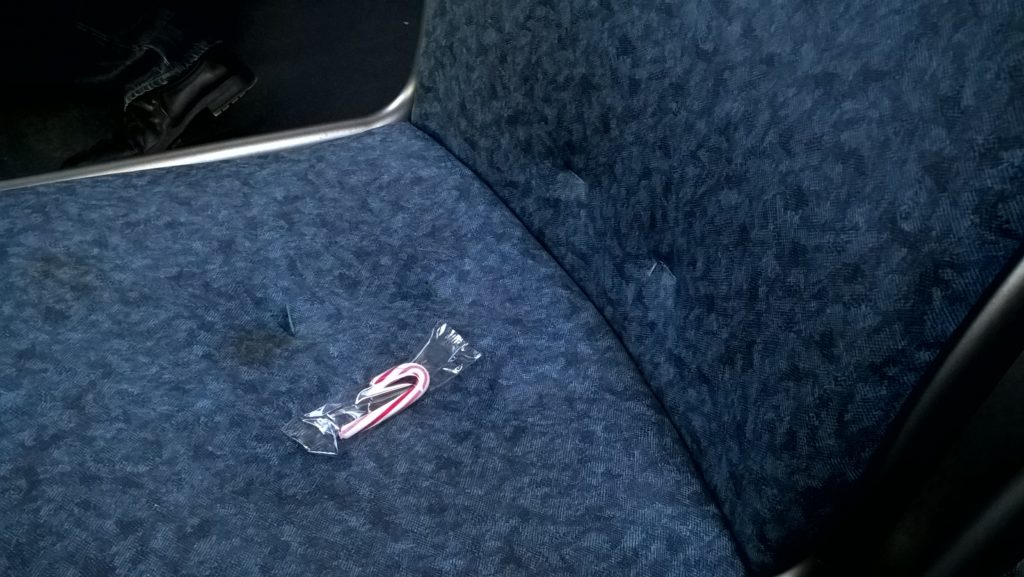 On the way off the bus, I complimented her on her decorations — and her kindness. She said, "I figured, if I have to work the holiday, I might as well bring it with me."
You guys. BUS DRIVERS ARE THE BEST PEOPLE.
***
* Quadruple bonus points for black women bus drivers!