Monthly Archives:
January 2011
My latest for Grist is all about why I love mine.
CT has launched a cool storytelling project. From a recent press release:
Snohomish County, Wash. – She said, "If Community Transit doesn't
go there, then neither do I."

It couldn't have been scripted any better. She was an elegant senior
who never learned to drive. She had used public transit for her entire
life, expressing in her own words what Community Transit meant to her.
She was sharing her story.

Storytelling is society's way of communicating between people: the
histories, the hopes, the personal details. While this story happened a
few years ago and wasn't officially recorded, it was passed from
employee to employee and an idea was born: Community Transit impacts so
many lives; those stories should be collected.

Now the agency has launched a project to gather and share stories that
express the importance of public transportation to individuals, in their
own words: unscripted, unrehearsed, unaltered.
I love this. Stories remind us why public transportation is an essential service. Because beyond all the practical reasons to ride, buses are about people.
Folks, I have a serious backblog (so much to talk about: bag upgrades, transit storytelling, route number confusion), and it's going to take me a minute to catch up. But before I get to all that, I have to share this cake (via: STB's Sherwin Lee). This is quite possibly the coolest cake I've ever seen.
Little Max is turning two: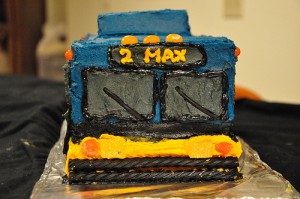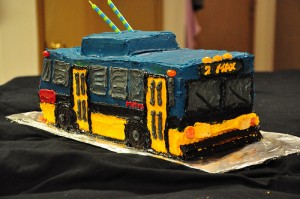 Candles as trolley poles? A licorice bike rack? If Nicole McGuire isn't a full-fledged transit geek, she's definitely earned her status as an HBC.
It is an interesting coincidence that I was made aware of this cake while Chicklet and I were knee deep in our own birthday baking adventure: non-transit-themed-though-still-quite-tasty birthday cupcakes for Baby Busling, who turned one today. (!)
More soon about my first year busing with two—and all that other stuff I've been meaning to get to.