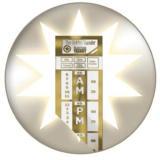 This month's Golden Transfer goes to the Contra Costa County [California] Public Library, a library system that's doing its part to encourage public transit use among readers–and reading among public transit users.
Earlier this week, as part of the new, rather unfortunately named, "Library-a-Go-Go" program, the CCCL installed a vending-style book-lending machine (the first of its kind in the nation) at the Pittsburg/Bay Point BART station.
[The machine] will hold some 400 books that can be checked out for free by anyone with a valid Contra Costa County library card. A patron will insert the card, get access to the available titles and check out up to three books. A robotic arm will retrieve the books.

[…]

The county public library plans to install three other machines at the transit village at the BART station in Pleasant Hill, a site in Byron/Discovery Bay and another location, not yet determined.
(Source: Mass Transit)
I've only been to the Pittsburg BART station once (to visit my sister back when she lived there), but I'd gladly go back just to get a crack at that machine. I love it, and not just because it will reduce car trips among East Bay readers. I love anything that makes the experience of riding transit more convenient and enjoyable, and I can't think of anything more convenient or enjoyable than grabbing a (free) ride read anytime the spirit moves. (Well, one thing: settling in with the latest TC Boyle novel while someone else does the driving.)
So thank you, CCC Library, for strengthening the relationship between public libraries and public transportation (two inherently complementary forces), and for giving people one more reason to ride.
Now, when can we see one of these things in the bus tunnel?