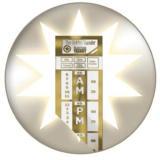 This month's Golden Transfer goes to Warren Yee, volunteer coordinator for Metro Employees Historic Vehicle Association (aka MEHVA), an all-volunteer organization of current and retired Metro employees "dedicated to the preservation of Seattle and King County's transit heritage through the restoration and operation of vintage transit vehicles as a working, living museum."
Warren and his team of volunteers don't just maintain the historic buses; they also donate their time to drive them–for MEHVA-sponsored tours, and occasionally, for private events.
Saturday before last, despite a scheduling mix-up that resulted in some seriously overbooked buses and drivers, Warren worked his volunteer-coordinator magic to provide a wedding bus for Busnerd and me. (It would have been a mini disaster if he hadn't been able to help us, since we had promised to provide transportation, and many guests had planned accordingly.) He found us a bus (a cool one at that), made sure we had a driver for the first leg (thanks, Manny!), and even stayed up past his bedtime to drive the final leg: the not-so-glamorous post-reception midnight run.
Thank you, Warren, for your efforts to preserve Seattle's history–and an important day for two people who will never forget you.