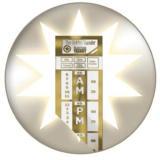 This month's Golden Transfer goes to Pierre Sunborg, a retired engineer who has made an actual hobby of riding the bus.
Pierre was interviewed on The Beat last Friday (good lookin' out, Sarah). If you have time, listen to it–if for no other reason than to find proof that I'm not the only one who thinks riding the bus is fun.
A former world traveler, Pierre found himself Seattle-bound several years ago when his parents began to require full-time care. His wife encouraged him to try riding the 74, a route she had been instrumental in defining during her days as president of the Uptown (neighborhood) Alliance (and incidentally, the route Busfather drives on Wednesdays). The 74 just happens to be a route that requires passengers to have an NOAA pass to travel beyond a specific point on Sand Point Way, and, not surprisingly, the ride piqued Pierre's interest in Metro.
These days, Pierre is in the middle of an ambitious project: riding every route in Metro's system, from end-to-end, in order. Right now, he's in the 100s. One of the things Pierre has learned from his Metro adventures is that you don't have to go far from home to travel. Some routes he likes:
The 75, for the nice, long ride. It goes from the UW north along Lake Washington almost to the Snohomish County line, then east across the city to Ballard.
The 33, for the scenery. In the fall, he likes the ride to Discovery Park.
The 2, also for the scenery. It goes from Queen Anne all the way to the lovely beach at Madrona Park. (Because I know you all love Busfather as much as I do: The 2 is one of his former routes.)
The 60, for the variety of people. According to Pierre, the folks who ride come from all over the world. (I find that this is true of many buses, but now, I'll have to check out the 60 and sample its flavor.)
So thanks, Pierre, for the inspiration and information (I'm going to ride the 75 and 60 ASAP). I'm still down to try the Night Owl routes if you are.