Monthly Archives:
February 2010
This is not a totem pole.
I never really looked at this library landmark (despite the kajillion times I have walked and ridden past it) until a late-evening bus conversation with a history-loving fellow native of the 2-0-sickness. After I explained the origins of Chicklet's name, he decided we were kindred spirits and so proceeded to school me about–among other things–the history and meaning of this particular work of art.
at
A self-described LA "snob," recently lost her job and found herself unable to afford her car lease. Instead of trading down for something cheaper, she decided–for the first time in her life–to give Metro a try. The result? She's not 100% sold on car-freedom (not surprising in sprawling, car-dependent SoCal), but she's definitely diggin' the ride. From the LA Times (via: Erin):
"I felt like I was too good for the bus," said [Jacquelyn] Carr, recalling her virgin voyage last October with a mixture of embarrassment and marvel. "I think there's a social understanding and a construction …
at
Reserved seating: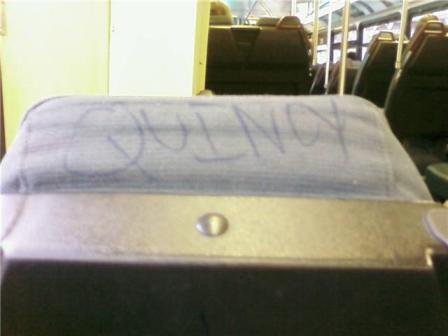 And Busling's only been a Metro passenger for a month! Chicklet–a bus veteran compared to her little brother–doesn't have her own seat (unless you count this one), but she does have her own stop.
Nerd and I are still waiting for our hookups…
at
While I've been focused on learning to fold an umbrella stroller with a baby on my chest, a bag on my shoulder, and a two-year old in my grasp (more on that in a future post), the transit world has continued to turn–sometimes around unpleasant corners.
I haven't been able to bring myself to watch the video of the tunnel beating, but I've been paying attention to the discussion. It feels very close to home and very threatening, both because the victim turned out to be the cousin of a family friend, and because it happened on the …
at
On Monday, 2/8, PBS will debut a cool documentary.
Blueprint America: Beyond the Motor City.

[The film] examines how Detroit–battered by the fallout of the automotive industry, and a bleak example of the social/economic failures that occur from having a transportation system that relies so heavily on private automobiles as the primary mode of mobility–may actually lead the way in transforming how the country gets around using public transportation that runs on clean energy.
It airs in Seattle at 10 PM. Check out this clip.
I had the pleasure of watching a preview copy of …