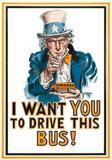 The big-haired, Shazza-lookin' guy at the wheel during our handoff was definitely a candidate for the "Sexiest Driver" award. And while I'm at it, I've seen a few other sexy driver types this month:
• Midday on a Saturday: a lovely young woman (possibly a former shampoo model) handling her business on the northbound 48. (Can you tell I'm a fan of hair?)
• Friday afternoon: a super-fit muscleman piloting the westbound 55. Thank God Metro issues a shorts uniform.