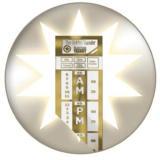 This month's Golden Transfer goes to Geme "Pat" Calman, Metro's Operator of the Year for 2006. Unfortunately, I missed the party this year, but here's what I know about Pat:
He's from San Francisco, and back in the day, he worked as a grip man on the cable cars. He's been driving for Metro since 1980. Since 2000, he's worked as a "report operator":
Report operators are on constant stand-by waiting to fill any unexpected hole in the bus driving schedule caused by another driver's illness or unexpected absence. That means Calman reports for work every day at Metro's Bellevue Base not knowing what his assignment will be, or what route he will be driving.

"A report operator like Pat has to be an expert on every route at the base," said Metro General Manager Kevin Desmond. "They tend to be our most experienced drivers, and they serve as a great resource for the newer drivers. Pat has repeatedly demonstrated his value as a mentor, and his willingness to help out whenever called upon is a tribute to his professionalism."
I've heard that report operator positions are fairly coveted and only available to drivers with a lot of seniority. Is that because, if no one is sick or on vacation, Pat gets to chill at the base all day? I'm kidding. (I guess.)
Pat has a degree in psychology, which might explain why he's managed so well as a bus driver.
"Pat is always customer oriented," said Transit Operations Manager Jim O'Rourke. "His contributions to our organization extend far beyond driving a bus. He's worked on a variety of committees and projects, including taking a leadership role in workplace health and safety issues."

Calman also has commendations from bus riders, including one family of four who said he went out of his way to help them when they were stranded at the wrong transit center.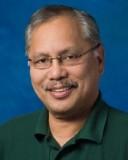 I don't think I've ever ridden with Pat, but I'd like to soon–first, because I always love riding with great drivers, and second, because I can't come up with a nickname for him until we've met. No disrespect to his distinguished career, but there's only one Busfather.