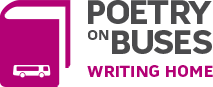 After a six(?) year hiatus, Poetry on Buses is back. I want to be mad about this (Cut buses but restore poems? Really?), but I'm (not so) secretly excited. I loved the program in the 2000s and expect I will again. Plus, it's funded by 4Culture, not Metro.
This year's theme is "Writing Home"–maybe since, with no buses, none of us will be riding home. (Sorry–can't seem to shake the stank.) On with the details.
Live in King County, WA and have an original, short poem about home? We'd love to read it!
Submit your poem for a chance to share your words—on the bus, online, and in the community.
I'm no poet (Bus Nerd is, though), but I might just submit something; there's nothing like despair to get the creative juices flowing.