Metro selected co-OOYs for 2007.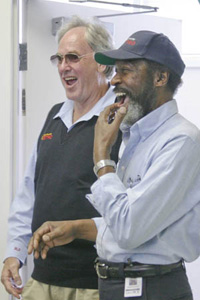 Every year, the best King County Metro Transit bus drivers are asked to select the single best operator from their own group. This year, they couldn't do it. Instead, they doubled up on the excellence and voted for two of their peers to receive Metro's top award.

Metro drivers Richard Boehmer and Nate Chappelle were surprised to hear they were sharing "Operator of the Year" honors.

Between them, Richard Boehmer and Nate Chappelle have 59 years of service behind the wheel for Metro, including 50 years of accident-free driving and dozens of commendations from customers. …

[…]

Boehmer has been driving for Metro since 1979. … He currently drives Route 222 serving Bellevue.

Chappelle has worked for Metro since 1978, and currently drives on all of the trolley routes.
If you dig bus drivers as much as I do, you'll want to read the whole article.
I never take the 222, so I doubt I'll have the pleasure of riding with Mr. Boehmer. Trolleys, on the other hand, I take almost daily. Surprisingly, Mr. Chappelle doesn't look familiar, but I'll be keeping my eyes open from now on.
And since everybody's doing it:
Two winners this year
Both work hard, help passengers
Do they share a ring?