This summer, I was invited to a statewide public transportation conference in Yakima, hosted, oddly enough, by WSDOT. Since my participation was limited to one panel discussion, and since the Bus Fam almost never has an occasion to visit the south-central part of our state, I decided to bring the entire crew along for a mini vacation.
I learned from Ryan, the facilitator of my panel, that there is an airporter from Seattle to Yakima—incidentally, run by the same company that operates the bus we took to Anacortes in 2007. Upon further investigation, I learned that the Yakima airporter has a stop downtown–at the Washington State Convention Center–and one at the Yakima Convention Center/Red Lion, where the conference was being held.
So, early in the morning Sunday before last, we packed our bags and hopped the 27 downtown. We made it to the Convention Center in time for a pit stop, which is a good thing, because, as I learned when making our reservation, the Yakima airporter does not have restrooms on board.
The ride was quick and reasonably comfortable, other than a slightly overzealous air conditioner. The shuttle made four stops between convention centers–Seatac, North Bend, Ellensburg, and Cle Elum–and the trip took roughly four hours, including the wait at the airport for everyone's baggage and a group pit stop in Cle Elum.
Our adventures in Yakima turned out not to be very adventurous. The Yakima Red Lion is pretty near the center of town, but there wasn't much—other than hotels and fast food restaurants—in the immediate vicinity. The weather was a bit warm for wandering, and, since we were there on Sunday and Monday (and only a small part of Tuesday), there wasn't a whole lot to wander to.
Yakima does have transit service: 11 routes, all of which stop running before 7 PM, and many of which offer hourly service for most of the day. But, it was hard to find the stops; there were exactly zero on the main drag through town. Also, the schedules and maps were confusing for us, since we don't know the city, and they were definitely optimized for folks who know where they're going. After several attempts, I did manage to ride the 6 to the visitor's center, but that was the extent of my Yakima busing.
The stop where I caught the 6: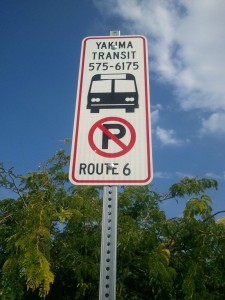 Chicklet and Busling approved of the transfer color.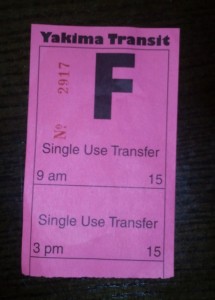 One of the drawbacks of traveling to a predominantly rural area without a car is that many of the places you'd want to visit are not accessible by transit. I would have loved to visit the Yakama Nation Cultural Heritage Center, but it was 20 miles away in Toppenish. Google claims that it is possible to get there using transit (if you're willing to walk two miles), but the service is very limited—running only once (?) per day and taking over an hour each way—and was not feasible for a Monday afternoon, post panel.
In general, being in a place that essentially requires a car for mobility reminded me of how marginalizing it can be to try to get around without one. When I was in college (and for a few years after), I lived in Houston. For most of that time, I could not afford a car. Bus service in Houston was terrible, and a significant part of the city had no sidewalks at all. I regularly found myself walking in ditches, stranded for long periods, and generally unable to carry out my life. Being back in Seattle, in a neighborhood with sidewalks and passable transit, I had forgotten what it feels like to experience that level of vulnerability and stress just trying to get around. This trip was a good reminder of what life is like for so many people who don't have the means or ability to drive a car. It was also a depressing foretaste of what life will be like in my own world in just a few months.
I digress.
We did manage to have some fun on our short trip. For one thing, the scenery was beautiful. (You'll have to trust me, since my phone photos don't do it justice.) And exploring the city on foot, even in the heat, was fascinating.
Proof that there's one in every city: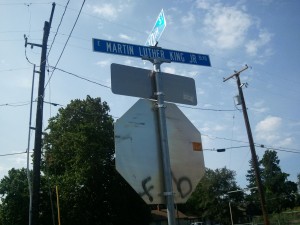 At the restaurant where we had dinner on Monday, I spotted a woman I recognized from the 27. (!) She was with a large group, so I was too shy to say hello. But Bus Nerd, ever the extrovert, marched over and introduced himself. Turns out, she's also a hardcore bus chick and was also in town for the conference. So, now I have a new friend in my neighborhood. (He-ey Theresa!)
The best part of Yakima, by Chicklet and Busling's standards, was the hotel pool. Let them tell it, the best part of every trip we've taken–ever–has been the pool. This, despite the fact that they're not big on actual swimming.
Again, I digress.
We headed back to Seattle Tuesday morning, shortly after breakfast.
Bye, Yakima!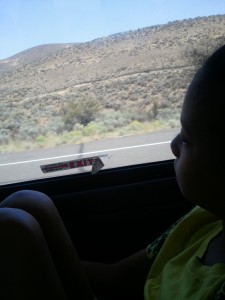 Father/son bus bonding: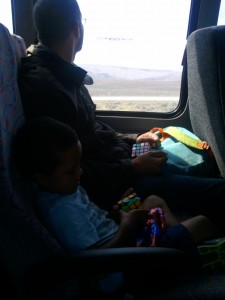 The return trip was slightly shorter than the trip there, since the airport passengers were being dropped off, and we didn't have to for wait anyone's luggage. It's a good thing. Thanks to a barely missed 27 and an excruciatingly slow 3 ride, the trip from the Convention Center to our house took an hour, door to door.
Yes, our two-mile trip within Seattle took more than a quarter the amount of time of our 150-mile journey back from Yakima.
Welcome to my future.