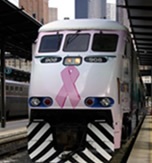 Racing for the cure this Sunday? Sound Transit's got you covered.
Whether you run, walk, or just cheer at the Susan G. Komen Breast Cancer Foundation's annual Race for the Cure, Sounder commuter rail can get you to and from the event at Qwest Field on Sunday, June 7.

The special Sounder service, dubbed Ride for the Cure, will serve Sounder stations in Tacoma, Puyallup, Sumner, Auburn, Kent and Tukwila, Everett, Mukilteo and Edmonds, bringing event participants to King Street Station in Seattle, just a short walk to Qwest Field. Regular weekday Sounder fares apply for the special trains.

Inbound trains will depart Everett Station at 6:25 a.m. and Tacoma Dome Station at 6:30 a.m., with both the northline and southline trains arriving at King Street Station shortly before 7:30 a.m. Return trip trains will depart King Street Station at 11:55 a.m. at the conclusion of the event. Complete timetables and fare information for the Ride for the Cure trains are at http://www.soundtransit.org/x10792.xml. Timetables for Ride for the Cure trains are also listed below.
I'll be at the race on Sunday (never, ever miss it), but I won't be arriving on a fancy, branded train. As always, Trusty 27 will be my ride.