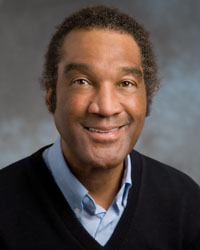 Congratulations to Marvin White (aka "Superman"), Metro's 2009* Operator of the Year. I missed the big surprise ceremony (again), and that's unfortunate; I would have liked to have had an opportunity to meet him.
Here's what the folks at Metro had to say about the 31-year veteran, who currently drives the 271:
Bus riders on many Eastside routes think White is the Superman of Metro drivers. They describe him as kind, courteous, skilled, and gifted with an ability to stay on schedule "…despite I-405 traffic."

[…]

"Marvin is one of those operators who knows many of his passengers by name, even though he picks a new route to drive three times a year," said Metro's Manager of Operations Jim O'Rourke. "When he goes on vacation, his passengers actually send us emails to tell us they miss him."

[…]

White does manage to sneak in a little free time away from his driving duties. He's an avid bicyclist and an accomplished musician. He's played in several Metro-employee bands during his years with the agency.

But he can't stay away for long – his customers won't stand for it.

Here's a sampling of comments from Metro passengers about White:

• "He always has something good to say to everybody, and he greets at least one-third of the passengers on his bus by name every time they get on or off."
• "When he is not driving the route, the passengers just sit and avoid eye contact. As long as Marvin is at the wheel, everyone is jovial and filled with camaraderie."
• "If Metro could clone Marvin White, you would double your bus riders in a hurry!"
A multi-modal type who cares about people and sparks bus-wide discussions? Time for a trip on the 271!
*Yes, I know it's the middle of 2010, but it's how Metro does it:
Since 1978, the drivers themselves have selected the best of their peers to hold the title of Metro Transit's Operator of the Year. In order to receive the award, a driver must be chosen as Operator of the Month from one of the seven transit bases. At the end of the year, the Operator of the Year is selected by a vote of all fellow Operators of the Month. The annual ceremony is usually held the following summer.