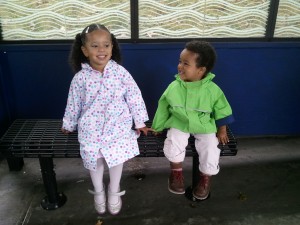 Recently, it occurred to me that, at 20 months (or, "one an' a haff," as he says), Busling is long overdue for some baby bus nerd walk training. After all, Chicklet was months younger when I started forci—er, encouraging—her to walk on our outings, and it's paid off. These days, she can hoof it a mile and a half (two, even) at my pace without blinking an eye.
I've been putting off walk training Busling, in part because he's the baby (they grow up fast enough as it is!), but mostly because I simply do not have enough hands. I stubbornly cling to my beloved baby pack, despite the fact that Busling has been too big for it for going on eight months, because it leaves one of my hands free for luxuries like, say, carrying an umbrella. (The other one, of course, is hanging on to Chicklet.) And, there really aren't any good alternatives.
I can't wear Busling on my back because I'm just not skilled enough at the on-and-off maneuvers, and sitting can be a challenge with a person right behind you. Plus, he pulls my hair.
As I've mentioned before, strollers and buses don't mix. That brings us to option three: traveling with two walkers. You don't have to think about this option long before you start seeing the challenges. Ever tried holding two hands and, well, anything else? For that matter, ever tried holding a toddler's hand for longer than 30 seconds at a stretch?
Well folks, I have.
Since last Thursday, we've been experimenting with Busling on foot–with the baby pack stuffed into the bus bag, just in case. So far, he's done great. (The kid is a trooper, like his big sis.) Not surprisingly, he travels at an excruciatingly slow pace, but he hasn't complained or asked to be picked up, not even on steep hills.
I couldn't be prouder of my baby boy, but I already know it's going to be a long fall and winter. I still have no solution for rain, shopping bags, or tired legs, and I can only fall back on the pack for so long before my back gives out. (If I'm still strapping the kid on on our walks to elementary school, please, call someone.) We've entered the bus parenting "awkward stage" I've been dreading since B was born, and I don't foresee it ending until he is close to Chicklet's current age (four in less than a month!).
The perks are still the perks, though. As with all of my previous challenges, I'll keep trying—and keep you posted!