I recently passed this Jacob Lawrence tribute shelter on Jefferson, somewhere between 18th and 21st.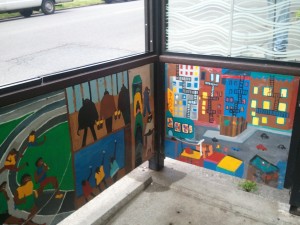 I can't believe I never noticed it before!
Thanks to my dad, I've known and appreciated Lawrence's work since childhood. (Pops was both an admirer of Mr. Lawrence's paintings and an acquaintance of the artist.) What I didn't know until I read this HistoryLink essay is that both Lawrence and his wife, Gwendolyn Knight, were bus people.
In 1971, Jacob Lawrence accepted a teaching position at the University of Washington's School of Art. … As part of the move and their effort to become part of the community, they bought a house that was near both the University and a bus stop.
[…]

For apartment dwellers who had never owned a car or a freestanding home, all of this was an adventure. They walked or took the bus nearly everywhere they went.
The evidence is mounting, folks. There's definitely a connection between transportation and inspiration.