Yep–on Megabus. Saw this article last week:
The Chicago-based company, which began operating in a number of Midwestern cities last year, plans to launch the new service April 2 in Pittsburgh; Ann Arbor, Mich.; Columbus, Ohio; Kansas City, Mo., and Louisville, Ky. It already offers service between Chicago and Cincinnati, Cleveland, Detroit, Indianapolis, Milwaukee, Minneapolis, St. Louis and Toledo.

"We're really trying to get people out of their car," Dale Moser, president and chief operating officer of Coach USA, the domestic subsidiary of Scotland-based Stagecoach Group PLC, which runs Megabus. "We think that's the real big advantage."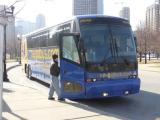 Prices aren't always a dollar–they're based on how far in advance you book–but they don't go above $43.50. That's cheaper than most (if not all) Greyhound rides. How does Megabus keep prices so low?
Megabus uses online ticketing and sidewalk stops instead of ticket counters and bus terminals. Passengers do not buy tickets, but instead give drivers reservation numbers they receive when booking online.

The low-cost model was imported from the United Kingdom, where Stagecoach introduced a similar service nearly four years ago.
Given our comparative scarcity of major cities, I'm not optimistic that we'll see this kind of low-cost service in the Northwest anytime soon, which is too bad. Trips this cheap might be enough incentive to get the otherwise bus averse out of their cars. And anyway: How cool would it be to take a trip to Portland or Spokane for less than the cost of a trip across town?