Last week, Bus Nerd and I took a little vacation, the majority of which we spent in one of my favorite places on Earth, Friday Harbor, Washington. We also spent one night in Victoria, BC.
It was a perfect trip, spent reading, resting, and enjoying the beautiful views. Here's how we managed it, sans voiture:
Friday Harbor:
1. We took the 27 from our house to 3rd & Pike, the closest stop to the Convention Center.
2. We took a shuttle (operated by Bellair Charters) from the Convention Center to the Anacortes ferry dock. (Note that we could have taken public transportation but decided to simplify for this trip. For those hardcore bus nerds who'd like to try it, here's the Human Bus Schedule's suggested itinerary:
• From downtown Seattle, take Sound Transit route 510 to Everett Station.
• Transfer to Skagit Transit route 90X (I've ridden that one before). Get off at Mount Vernon Station.
• At Mount Vernon Station, transfer to Skagit Transit route 513 (westbound). Get off at 10th Street & Q Avenue.
• At 10th Street & Q Avenue, transfer to Skagit Transit route 410. Get off at the Anacortes ferry dock.
Also note: From the beginning of July to the end of September, you can take the Victoria Clipper directly from Seattle to Friday Harbor.)
2. We took a (Washington State) ferry from Anacortes to Friday Harbor.
3. To get around town, we walked. Friday Harbor is one square mile, and (aside from some strange crosswalk issues near the ferry dock) very walkable.
4. To get around the island, we used San Juan Transit's shuttle. The name is a bit misleading, as it's optimized (and priced) for tourists, but since we were tourists, we found it extremely useful. We took it to Lime Kiln State Park (aka Whale-Watch Park) every day we were there. (Sadly, we didn't see any Orcas this time.)
Victoria:
1. We took a (Washington State) ferry from Friday Harbor to Sidney.
2. A few blocks from the ferry dock in Sidney, we caught a Victoria Regional Transit bus (a double decker!) to Victoria's Inner Harbor. The bus stopped about two blocks from our hotel.
3. To get around Victoria, we walked, but we could have purchased VRT day passes and ridden the bus.
Back to Seattle:
We took the Victoria Clipper to Pier 69, walked up to 3rd Avenue, and took our beloved 27 home.
Highlights:
• The scenery on San Juan! To this bus chick, the Pacific Northwest is paradise.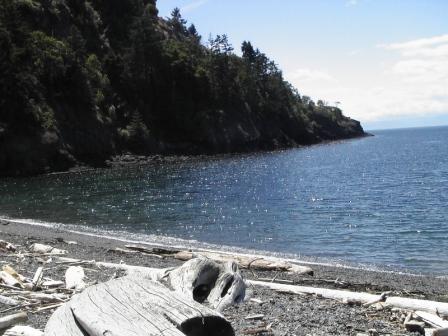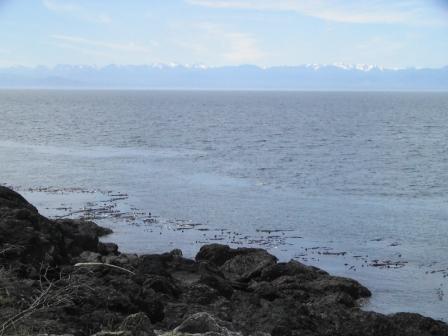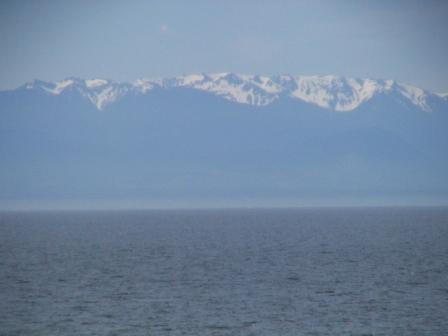 • The San Juan Transit shuttle driver who shared his knowledge about the history of the island on the way to Lime Kiln.
• Cool Sidney bus stop signs. They included full schedules and maps. (They also included ads. More on that later.)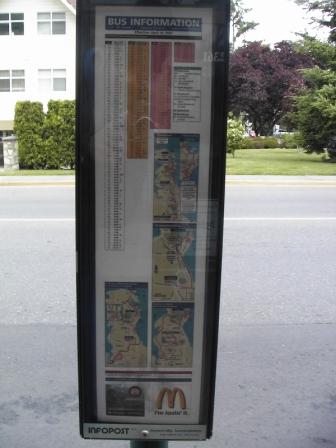 • The double-decker bus we rode to Victoria. Talk about great views!
• Sidney bus (stop) luh: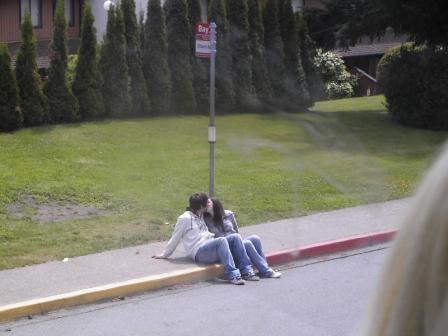 • Alcheringa Gallery in Victoria. The carvings (especially the masks) were exquisite.
• Tea at the Empress. (Yes, I know the place is designed to separate tourists from their money, but I liked it. Sue me.) I would fight someone for another one of those curry sandwiches.