I've already mentioned two of the transit-related happenings that are scheduled for the 24th: the reopening of the downtown bus tunnel and the first day of operations for Microsoft's Connector bus service. Now, we have another cool development to look forward to: new trains!
Today Sound Transit announced expanded Sounder commuter rail service starting September 24th that includes two new weekday round trips on the south corridor and one on the north corridor. The new south corridor trains include the introduction of a new "reverse commute" train that will run from Seattle to Tacoma in the morning and return northbound in the evening.

The reverse commute train will for the first time enable commuters to ride Sounder to jobs in South King County and Pierce County. The additional runs expand Sounder service hours in both the north and south corridors, with the first train starting at 5 a.m. and the last train making its final stop at 6:55 p.m.
Fabulous. No disrespect to the 590, but I've always wanted to take the Sounder to Tacoma. (Hey, where were you guys when the Frida Kahlo exhibit was at the Tacoma Art Museum?) Even better, folks who actually have to commute south can ride.
Not to bring up wraps again, but:
To celebrate and promote the brand new reverse commute route Sound Transit unveiled a special locomotive wrapped in a vintage design dubbed the "City of Destiny train," a moniker chosen to honor Tacoma's motto of more than 100 years.
This is fitting, considering that the motto resulted from Tacoma's selection (over Seattle) as the terminus of the Northern Pacific railroad.
I had to work today, so I couldn't attend the unveiling, but Sound Transit Andrew was kind enough to send me pictures: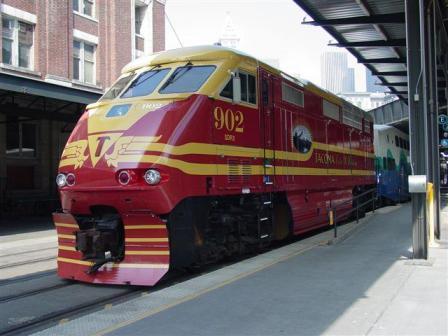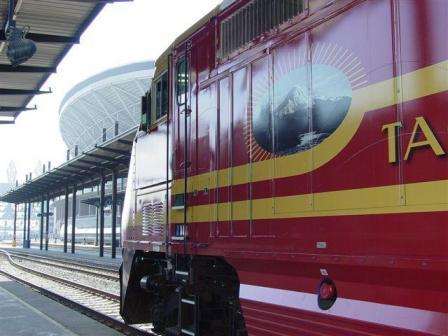 What's not to like about a train with a picture of the Mountain on the side?