This morning, I stopped by the County Courthouse to see some demos of the partially wrapped buses. (The Council tabled the vote on whether to allow the partial wraps, so these demos were made available to help the members come to a decision. Members of the Transit Advisory Committee and the Accessible Services Advisory Committee were also invited to take a look.)
The partial wraps leave 15″ clear on every bus window. This looks different on different buses, depending on the size of the windows and the height of the seats. (I apologize in advance for the quality of these pictures; I have yet to replace my broken camera.)
Here's what a partially wrapped trolley looks like: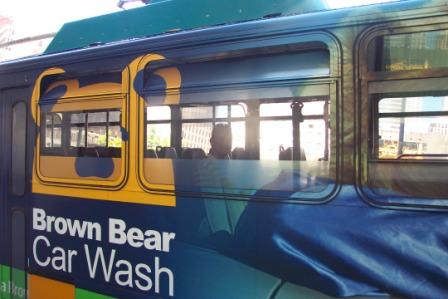 Note: There aren't any real ads designed for this template yet, so the folks at Metro just removed some of the vinyl from an existing ad.
Here's a New Flyer 40-footer: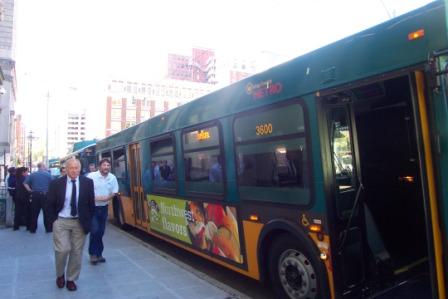 In this case, instead of altering an existing wrap, they covered the parts of the windows that would be obscured by the ad.
Here's the view from inside the trolley: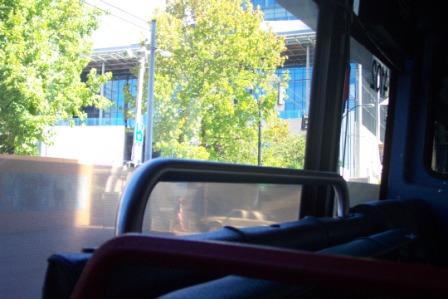 And from the other side: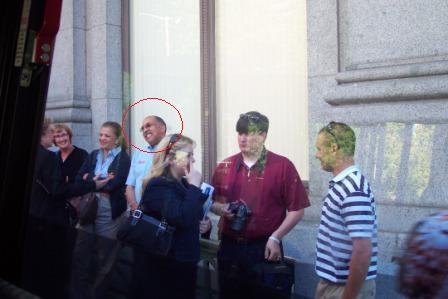 Anyone recognize the man in the red circle? Yes indeed, Busfather was there as the official driver of the 40-footer. He got to hang out for a couple of hours while the bigwigs (and regular folks like me) checked things out. Not a bad gig for a sunny Monday.
Anirudh, aka Bus Hero, who also happens to be one of my fellow TAC members, was also there.
Anirudh on the trolley: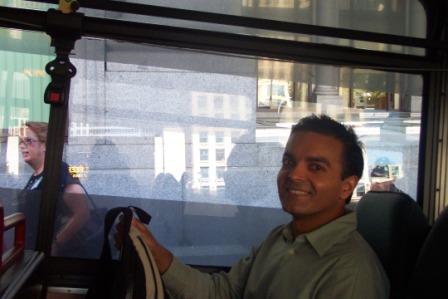 So was my councilmember, Larry Gossett: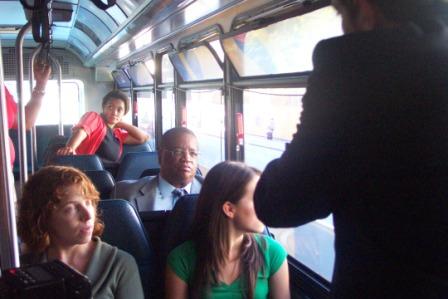 Y'all already know how I feel about bus revenue: I'm inclined to endure a little obscured vision every once in a while if it means more service. The good news is, the partially wrapped buses don't obscure your vision. I could see out of all the windows, even when I hunched down to make myself shorter. (Of course, I'm not sure how a child riding alone or a person in a wheelchair would do. I'll leave the latter to the folks at the Accessible Services Advisory Committee.)
Bottom line: We (OK, I) likey. Councilmembers, please vote "yes."
After the bus viewing, a lovely lunch at the Gates Foundation with my friend Char (which involved a slowish ride on the 70), and a quick trip to the Real Change office, I happened upon Smooth Jazz while crossing the street on my way to catch the 27. (He was driving a bus back to the base, apparently, after finishing his shift.) I waved before I had a chance to remember that he doesn't actually know me, and he waved back. Turns out, he does know me (and how could he not–I've been on his bus about 30,000 times in the past year). He said he hadn't seen me in a while and had been wondering what I'd been up to. This, of course, made me feel very important and fabulous.
Called up the homies and Im askin yall
Which court, are yall playin basketball?
Get me on the court and Im trouble
Last week messed around and got a triple double
Freaking brothers everyway like m.j.
I cant believe, today was a good day