We're back from a fun visit to Detroit. I must say, busing with a small child is good practice for riding an airplane with one. Bus Nerd and I are excellent at packing light (haven't checked a bag yet), and we know how to keep Chicklet entertained on rides.* Chicklet is used to sitting quietly in vehicles full of people and a pro at sleeping on the go. As a result of her training, she was an absolute angel during our travels, including the bus rides to and from the airport.
On to the trip recap:
A good time was had by all. Chicklet got to help her granddad celebrate his birthday (that's two grandpa birthdays in a little over two weeks) and just generally bond with her Michigan fam; Nerd got to bask in the joy of being in his city (the man loves Detroit at least as much as I love Seattle, and that's a lot of love); and I got to indulge my secret affinity for candy paint and big wheels (hey–everyone's got a vice) and enjoy being surrounded by tributes to my shero.
Sadly, I didn't get a photo of Rosa Parks Boulevard; we didn't have the camera handy.
We didn't do much–OK, any–Detroit busing this time, as we were traveling with family (we walked a lot, if that counts), but because we intended to, Bus Nerd spent a little time on DDOT's website. In the course of his trip planning, he came across these Arabic bus schedules. Cool, no?
And finally, a cool sign across from the area on Belle Isle where we picnicked for my father-in-law's birthday.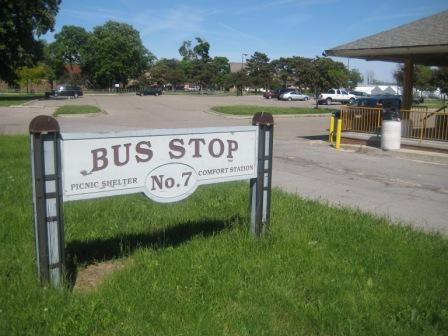 Bus Nerd says it's a real bus stop. Next time, we'll ride the bus to Belle Isle so we can actually use it.
* OK, not four-hour rides, but still.