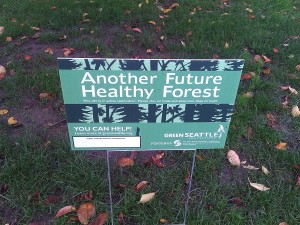 The first time I planted trees with my family*, it was pouring down rain. I had signed us up to participate in Green Seattle Day — despite the fact that getting up early on a November Saturday and digging in the mud was not my (or as far as I knew, anyone in my family's) idea of a good time — because I wanted to plant a seed (if you'll pardon the pun) in my children. I wanted to show them a concrete way to contribute to their community, educate them about the native plants of the region they call home, and encourage them to get their hands in the dirt.
On the appointed morning, it was raining — not Seattle drizzle or intermittent showers, but the kind of heavy, steady rain that makes you regret all your plans (and question your decision to live without a car). But we had made a commitment, so we pulled on our boots and hooded jackets and headed out to plant trees anyway.
And, we had a blast!
We were fortunate that our planting site was the tiny wooded area adjacent to the kids' school – a mere half mile from our home. One of the stewards of those woods also happens to be a preschool teacher and the parent of a child in Chicklet's grade.** She gave thorough instructions and let all of the kids participate fully in the planting process. Chicklet and Busling loved it. They shoveled mulch, dug holes, loosened roots, and gently patted soil around the transplants. They also named all five trees – and many other smaller plants — we made homes for that day. Our favorite was the first tree we planted, a tiny garry oak sapling that Chicklet named Acorn Butter.
Here is sweet Acorn Butter, on her first day in the woods. (As usual, I apologize for the quality of my photos.)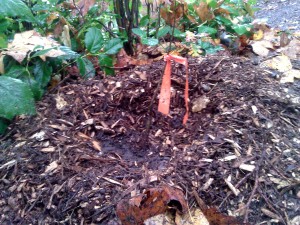 It just so happened the stewards of our little woods had won a large grant, and there were hundreds of plants to get in the ground — far more than could be planted in one day. So, after Green Seattle Day, they hosted several additional "planting parties" throughout the fall, winter,*** and early spring. Chicklet and Busling insisted on going to every single one. Over the course of several months, we planted ferns, Oregon grapes, false lilies of the valley, bleeding hearts, dogwoods, red flowering currants, spruce, garry oaks, and many more saplings whose identities weren't immediately obvious.
Since our first planting adventure, the kids have walked through the woods every day after school, checking "their" plants, talking to them, and looking for signs of growth. They reveled in the heavy winter rain, knowing it was keeping the soil wet for their babies' new roots. And, they counted the days until springtime, when everything would open and flower and grow. For months, Acorn Butter looked just like she had on the day she was planted: a bare stick. Still, Chicklet checked on her faithfully, stroking her tiny branches and giving her encouragement and — I kid you not — kisses. Finally, in late March, we started to see buds.
Then, there were leaf starts.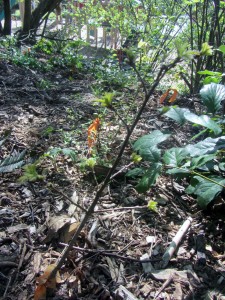 The leaves got bigger.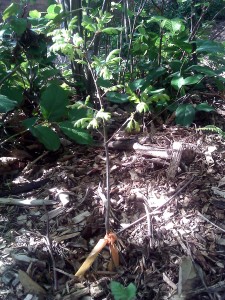 And here she is on Tuesday. (!!!)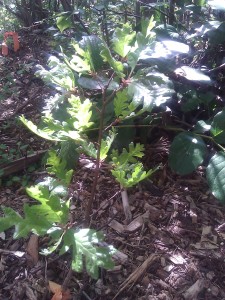 In many ways, it has been a long winter for our family — and for our world. But thank God for spring, for fresh new buds, and saplings straining toward the sun.
In my dreams, Chicklet and Busling will walk into these woods with their grandchildren one day, pointing to strong oaks and tall spruce, telling the tale of how they planted them, with their tree lovin' mama, many years ago.
***
* Not counting the three we planted in our own (tiny) yard: a vine maple, and apple, and a fir (in memory of my mother)
** She is also an all-around amazing person who inspires me with her generosity and commitment to community.
*** Yes, you can plant in Seattle in the winter. Historically, it rarely freezes, and there is plenty of rain; lately, it's been even warmer than normal.