I'm leaving town in a few hours (for Friday Harbor!), so I won't be posting this week.
In the meantime…
1. Guess these routes. Jack W., a super-smart transit planner who also happens to be a Transportation Choices Coalition board member, prepared his own form of bus Jeopardy (Jeopardy Haiku) for TCC's last house party.
Here are a few I liked:
WHAT NAMESAKE?
On this road, run routes
Eight, Forty-two, Forty-late;
This County, Sims-led

WHAT BUS ROUTE?
Redmond – Overlake
Five twenty will toll for thee
Seattle and Montlake

WHAT?
Route one ninety four's
Faster; has twin Beacon bores
And freeways crossing
Jack says these are easy, but I don't mind easy. Who knows the answers?
2. Share your bus knowledge. To complement his gorgeous photographs of Seattle parks, Matthew from Fremont* is planning to take pictures from Seattle's most scenic bus routes. Right now, he's compiling a list. Got any suggestions? (A few of mine: 39, 53, 46, 209)
3. Ride Thursday. Don't forget to Dump the Pump on the 21st!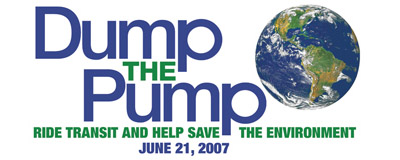 *This is a correction from my original post. I originally misreported Matthew's neighborhood as Capitol Hill.