Tag Archives:
multimodal mondays
Until recently, I've have a complicated relationship with neighborhood greenways. Though I have always been supportive of the concept of making streets safer (and more comfortable) for cyclists and pedestrians, I've also been skeptical that minor changes to neighborhood streets* would make much of a difference.
Then they added a greenway to our neighborhood. OK, I haven't actually ridden on it yet, but I have walked behind my budding bicyclists on a number of excursions. Folks, I'm a believer.
at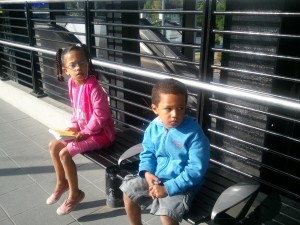 One of my close girlfriends lives in Renton. Not Renton as in, near the Renton Transit Center. Not even the Renton Highlands. No, this friend lives deep in Renton–miles from the nearest bus stop, a long way even from a sidewalk.
Every once in a while, I take a Zipcar to visit her at home, but usually, we meet somewhere–either for dinner near RTC or downtown, or with our kids at a bus …
at
Here is my Chicklet, on the last Monday of the academic year, heading to school the way she has every day of her kindergarten career.
She and sweet B, who attends preschool on site at her elementary school, have walked (and sometimes run) in every kind of weather, a hilly half mile each way, without missing a single day–or ever being late. A half mile is nothing to …
at
Rollin' to the pool for swimming lessons:
He loves that little bike so much, he's getting me exciting about cycling. Look out, Bike Month!
at
Chicklet's on spring break and so spent the week at camp at Seattle Center. We usually ride the 8 to that part of town, but this week, we decided to mix it up.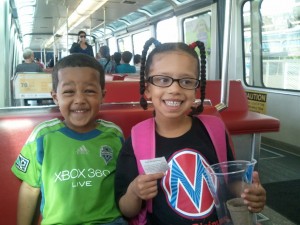 I remember when riding our city's crusty, nearly useless tourist train made me smile just as big.
at