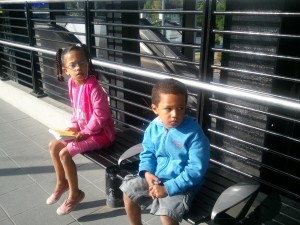 One of my close girlfriends lives in Renton. Not Renton as in, near the Renton Transit Center. Not even the Renton Highlands. No, this friend lives deep in Renton–miles from the nearest bus stop, a long way even from a sidewalk.
Every once in a while, I take a Zipcar to visit her at home, but usually, we meet somewhere–either for dinner near RTC or downtown, or with our kids at a bus accessible park, library, or similar.
For our most recent get together, we agreed to meet at Coulon Park, because she had somewhere to be in Renton right after our visit; the kids and I had the whole day free; and when the weather is good, I am always (always) down for a transit adventure. Especially when the adventure includes a train.
On the big day, we got up early to pack a picnic lunch, swim suits, towels, and a few toys, then headed out the door at 8:30 for a long-ish walk to our first bus: the 48. We took the 48 to Mount Baker Transit Center, where we transferred to Link. (Just for today, I'll refrain from complaining about how horrible that transfer is.) We rode the train all the way to Seatac–easily the best part of the adventure–then transferred again to the 560. Our stop in Renton was less than a half mile from Coulon, and we arrived at the entrance about an hour and twenty minutes after walking out our front door–a few minutes early for our 10 AM meeting time.
Yes, 80 minutes is a long time to travel from Seattle to Renton (twice the amount of time it would have taken to drive with average traffic), but we really did enjoy the trip. Our waits were short, our rides were smooth and air conditioned, and we had plenty of interesting scenery–inside and outside of the vehicles–to entertain us on the way. When we go on transit adventures, we think of our travel time as part of the fun.
The rest of our Coulon adventure was even better than the ride. The kids played on the playground and the beach for hours while I caught up with my girl. After she and her daughters had to leave, we played for at least an hour more. And after everyone had thoroughly exhausted themselves, we made the long trek home. Chicklet insisted on the exact same itinerary, so we could have one more chance to ride the train.
Perfect adventure. Perfect day.