• Metro gave a preview of the new Rapid Ride buses on Tuesday.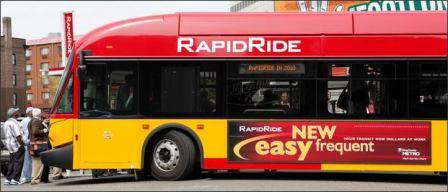 Sexy, no? The interiors aren't bad, either.
And the agency had some more good news*:
…acting FTA Administrator Matt Welbes announced his agency is immediately releasing $13.8 million dollars to help fund the acquisition of new articulated hybrid-electric coaches and other system improvements to support Metro's first RapidRide line. The funding will help pay for 16 new buses, various station and shelter enhancements and real-time information systems for the "A Line" serving the cities of Tukwila, Sea Tac, Des Moines, Kent and Federal Way beginning in 2010.
This is a good thing, since KC Metro is beyond broke at this point–and in the process of trying to figure out which existing service to cut.
•If you've got 10 minutes to spare, watch the Streetfilm, "The Search for the Zozo." I won't even try to explain it. I'll just say that it's a bit different from the usual Streetfilms fare, and, if you're in the mood for silly (Who isn't these days?) it's worth the watch.
• Pierce Transit driver Brentt Mackie won first place in the American Public Transportation Association's annual Bus Roadeo. (Yes, people, there is really such a thing.)
From an APTA press release:
Lakewood, WA – For the second time in three years, Pierce Transit Bus Operator Brentt Mackie has been awarded the First Place trophy in the 40-foot Transit Coach Division at the 2009 International Bus Roadeo that just concluded in Seattle.

[…]

The Roadeo competition requires drivers to maneuver their vehicles through an intricate maze of graded exercises that includes serpentine turns, passenger stops, and reverse turns that duplicate the demanding requirements of everyday driving. The final exercise is high-speed braking where operators maneuver through a row of ten 55-gallon barrels spaced only inches wider than the bus.
Whoa. I want to be on his bus.
This year, the festivities were held here in the 2-0-sickness. Seattle Transit Blog has the scoop on the other Washington State winners.
• Seattle police are cracking down on drivers who don't stop at crosswalks.
Seattle police are sending more pedestrian decoys onto city crosswalks, to nab drivers who blow through without stopping.

[…]

Seattle tends to rank among the safest U.S. cities for pedestrians. Nonetheless, 468 car-pedestrian collisions were reported to police last year, said Gray. She is project manager for the city's new Pedestrian Master Plan, soon to be released, which calls for more enforcement.
(Source: Seattle Times)
This issue was also one of the topics on KUOW's The Conversation on Tuesday.
* I don't have a link to the online version of this press release, but I will post it as soon as I do.