On Saturday, my crew took a transit trip to the Tacoma Musical Playhouse. We rode three routes on three different systems: the 14 (King County Metro) from our neighborhood to downtown Seattle, the 594 (Sound Transit) from downtown Seattle to downtown Tacoma, and the 1 (Pierce Transit) from downtown Tacoma to the theater. It was a two-hour trip, including walks and waits. Good thing we had our books, cubes, and snacks packed and our adventure hats on.
Even though we ride the 14 regularly, there is something about traveling during "off" hours that makes it more fun. When buses are less crowded, drivers are more relaxed, and there is a solidarity and camaraderie among passengers that leads to conversations — and frequent bus-wide discussions. Our early Saturday morning 14 was one of those special rides, and it put us in just the right frame of mind to enjoy the rest of the day.
The 594 was exciting for Chicklet and Busling, who are used to city buses and did not know what to make of a Sound Transit commuter vehicle. When I showed them that their seats could recline, they just about fell out.
594. My Metro babies are in awe of Sound Transit's reclining seats. pic.twitter.com/6ZdiKc9ooG

— water is life (@seattlebuschick) February 18, 2017
The 1 ride to the theater was a 30-minute trip down Tacoma's busy 6th Avenue. Who needs expensive vacations when you can take the bus through a neighboring city? It was fun to notice the differences : the velvety bus seats (which are easier to ride on because they are not slippery but which kind of freak me out because I once read that they're teeming with scary bacteria), the location-specific bus ads, and the shops and other sights.
It was also pretty amusing to experience all the things that were the same. There was the bus breakdown. Two stops into our first 1 ride, our driver had to "switch coaches" because of an unexplained mechanical problem. There was the Inappropriate Questioner — this time, a middle-aged white woman who yelled across the aisle to a young, light-skinned black man that he looked just like Gregory Hines (he didn't) and then proceeded to interrogate him about his knowledge of the famous dancer. There was the Manspreader (in his defense, the bus was half empty, so he wasn't actually encroaching on anyone), who spent the better part of the ride scratching his back with a butter knife. And, at the stop where we got off, which is a half block off of one of Tacoma's busiest streets, there was this.
Despite the minor setbacks, we arrived at the theater with plenty of time for a stop at the restroom (which had a chaise!) and a little exploring before the show started.
And about that show…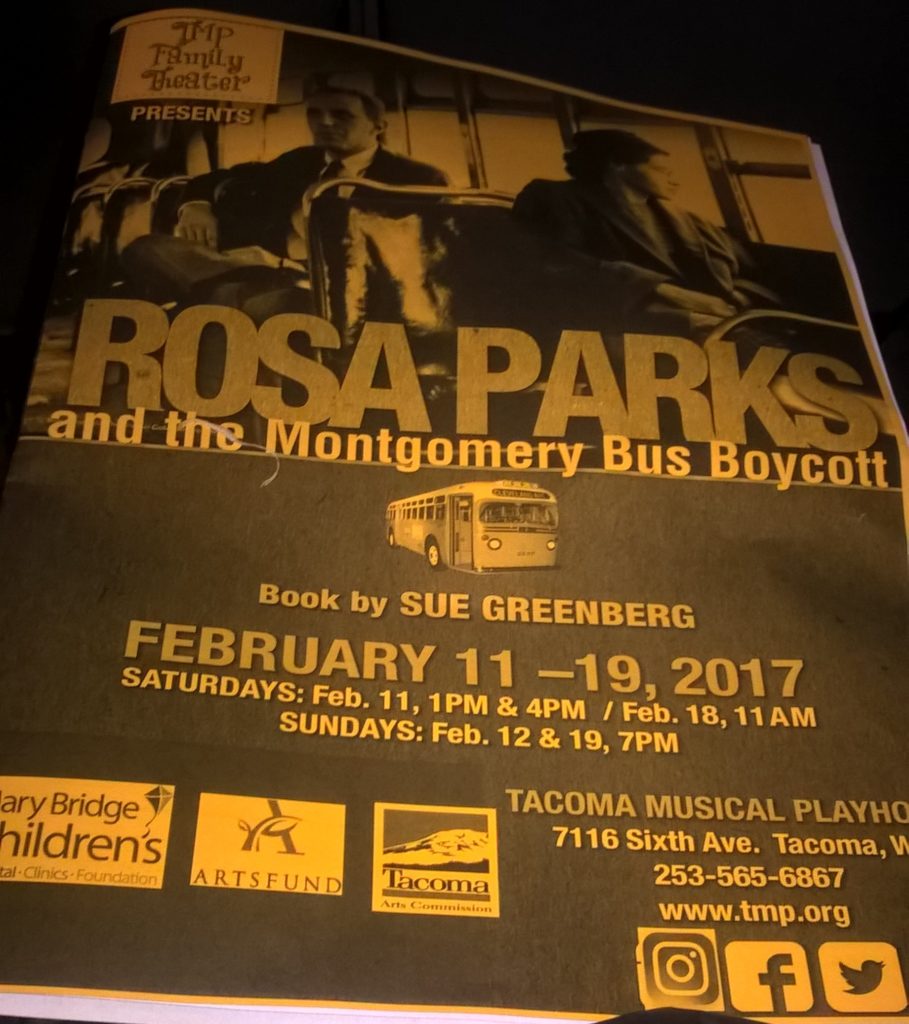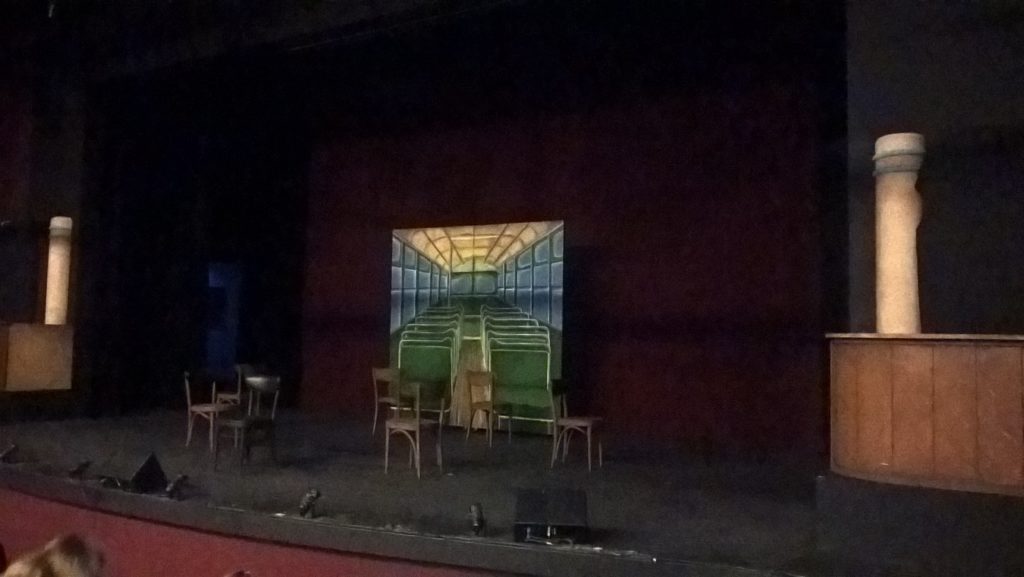 And now, perhaps, you understand my motivation to travel all the way to Tacoma to watch a "family musical." The show was absolutely wonderful and somehow managed to please all four of us. Not only was it historically accurate — it even included the story of Claudette Colvin and dispelled many myths about Parks' life — but it was also entertaining and incredibly inspiring.
We tend to see history's heroes (and sheroes) as Chosen Ones, special people who embrace their destiny as our saviors. The truth is, heroes are almost always regular folks with families and fears and bills to pay. This was certainly true of Rosa Parks, Martin Luther King, E.D. Nixon, Joanne Robinson, Virginia Durr, and the countless unrecognized people who risked and sacrificed for 381 days.
Their resistance was radical and dangerous. They faced violence from terrorists and from those who were sworn to protect them from terrorists. They had no reason to believe that their boycott would be successful, and they had every reason to believe that tremendous harm would come to their families if they continued. Yet day after day, setback after setback, they faced down their fear and doubt and chose to act with hope and courage. Their example is an enduring reminder that justice is not inevitable. It requires struggle. It requires us to persist in moments when it would be far easier not to.
I am grateful to Sue Greenberg and the Tacoma Musical Playhouse for bringing this beautiful struggle to life for my family.
And speaking of family…
My other motivation for a bus adventure to Tacoma was (and will remain) my hilarious, adorable three-year old niece, HD. After the show, HD and her mama met us for lunch at a fun burger joint near Wright Park — another 1 ride in the opposite direction. They also took us on a tour of Stadium High School (which is a short walk from the restaurant), so my Harry Potter-obsessed children could pretend they were visiting Hogwarts.
After our rainy tour, we decided to continue our sightseeing on foot. We said goodbye to our guides and walked the mile to the nearest 594 stop. Then we headed back north, spending most of the ride napping contentedly in our reclining seats.
Sure, our excursion had its share of wet socks, waiting, and whining (mostly, in the form of begging for treats at the theater), but those irritations will be quickly forgotten. What we will remember about our February Tacoma adventure is that it stimulated our curiosity and imagination, fortified our courage, and connected us with our family and community. In my book, that's as close to perfect as an adventure can get.