I recently chatted (via e-mail) with Nicole McGuire, the woman who made this amazing cake.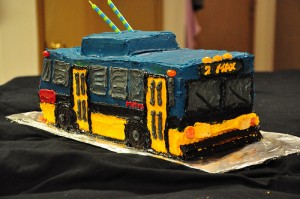 Here's what she had to say about her kid's bus obsession–and her work of genius:
Max's love of buses began when he was about a year old with Joe taking him on trips when I was pregnant with our second child and too tired to go out and do anything. For some reason, Max just loved the bus from the start. By the time he was 14 or 15 months old he would literally shake and squeal with delight at the sight of an oncoming bus. He was a late talker, but his third spoken word was "buth!" (he hadn't even said "daddy" or "mama" yet). We also live close to a busy intersection which services several bus routes, and so buses can be seen and heard at almost any time of the day out our window, so that probably contributed to the fascination.

As far as the cake went, I just wanted to make him something that I knew he would enjoy. He loves buses more than anything — except for Daddy — and I couldn't make a cake in the shape of Dad. So, I got it in my head that I'd make him a bus cake. I had a vision of what I wanted it to look like, but I didn't have any models to work from. I bought a book titled "Birthday Cakes for Kids" by Annie Rigg, hoping to find something to work off of. But unfortunately, there was nothing that resembled the image I had in my head. But I thought, "hey, how hard could it be?" and decided to take her cake recipe, thinking it would be sturdy enough to withstand shaping. It was; it worked beautifully.
Nicole was also generous enough to share her recipe. (It needs to be added to that cake cookbook!) I will definitely be trying it on a future birthday in our household. (Bus Nerd is next up, but he's a pie man.) When I do, I'll post photos (no matter how it turns out) here. If any of you try it before I do, be sure to report back.
Here's the recipe for one 9×13 cake.
(I used 3 of these to get three 5.5″ x 13″ rectangles and then used the scraps to add the electric converter box on top. It really was a huge cake — it probably could have fed 30 people).

Annie Rigg's Basic Yellow Cake:
3 sticks unsalted butter, at room temp
2 cups sugar
6 large eggs, beaten
2 teaspoons vanilla extract
3 cups cake flour
5 teaspoons baking powder
4-5 tablespoons milk, at room temp

Preheat the oven to 350ºF. Grease and place greased parchment paper in a 13×9 cake pan.

Cream the butter and sugar in electric mixer until pale, light and fluffy, about 2-3 mins. Very gradually add the beaten eggs, mixing well between each addition and scraping down the bowl with a spatula from time to time. Stir in the vanilla extract.

Sift together the flour and baking powder and add to the cake mixture in 2 batches, mixing until smooth. Add the milk and mix until smooth.

Pour into cake pan. Bake on the middle rack of preheated oven for 45 mins, or until a toothpick inserted in center comes out clean. Let the cake cool for ten minutes before turning out onto a wire cooling rack. Turn the cake right side up and let cool completely.

I used a Betty Crocker buttercream frosting — your favorite will do.

As the cakes were cooling, I mixed the food coloring into my frosting. I used the gel food coloring for more intense color (bought at a kitchen store, but I think you can find them at nicer grocery stores).
Blue + Green = Teal (for bus top)
Yellow + splash of Orange = Gold (for bus bottom and doors)
Black (for piping and line down center of bus)
Red (for small red stripe and metro writing)
Splash of Black = Grey (for windows)

Once the cakes were cool, I used a serrated knife to level the tops of the cakes so they stacked nicely. I cut them into 5.5″ by 12″ rectangles, being careful to save the remainders for the electric converter box that went on top. I put frosting in between the layers to cement them in place. Then I cut a little wedge off the back of the bus so it tapered ever so gently. I took two 1″ x 4″ scraps and put them side by side and on top of the cake with frosting to make the electric converter box. I tapered the sides of these (cut off little wedges on front and back sides) so they lay on the cake at a 45 degree angle. Then I crumb coated it. This is just a fancy way of saying that I put a layer of frosting around the whole cake and then stuck it in the fridge for about an hour so that the surface of the cake would be easier to frost and wouldn't get little bits of cake everywhere. Then, I used some photos I found on google images as a guide and I frosted it. (One tip — I used both a small and large offset spatula to crumb coat and to frost). Teal on the top, gold on the bottom, black stripe down the middle, gray windows, etc. For the thin lines I put the frosting in a plastic pastry bag and snipped off the tip to pipe the frosting. The frosting took a good couple of hours.

I then stuck Oreos on for wheels (I cut circles into the cake so that the oreos would fit in and would be flush against the cake) and frosted black lines along the bottom as a bumper. For the front bumper I used black licorice vines. I used giant yellow gumdrops cut into rectangles for headlights, and cut the small circular tip off orange gumdrops for parking lights. I used black licorice ropes for window washers and orange jellybeans for the little lights on the top of the bus. I used the bottom of large gumdrops for the taillights, red jellybeans for the little lights on top in the back and a licorice allsort for the tailpipe. Then I put two long candles in for the electric poles.
Hooray for Nicole (coolest mom ever) and my new (third) favorite BCiT, Max!