Last November, our Chicklet turned six—and entered the world of fare-paying riders. As with many aspects of taking transit with children, this transition has presented some logistical challenges.
In an ideal world, Bus Nerd and I would be able to pay for Chicklet with our own ORCA cards.* Unfortunately, that is not an option. Not surprisingly, it isn't possible to load two passes onto one card. And, though each of us has both a pass and a supplementary "e-purse"** loaded on our cards, it's not possible to use the pass for the adult fare and the e-purse for the child fare. At least, we haven't found a driver who thinks it's possible; the request seems to baffle them.
The last thing we want is drama and confusion (and holding folks up!) every time we board a bus with our kid, so, we decided to "simplify" by buying Chicklet an ORCA card of her own. The thing is, simplifying's not so simple.
First of all, buying the pass was a hassle. FYI folks: You can't buy a youth ORCA card just anywhere; you will have to schelp downtown during business hours. And make sure to bring your kid's birth certificate. No proof of age, no pass. At the time I purchased Chicklet's card, I worked downtown, so I went to Metro's pass sales office–with the necessary documents, thanks to knowledge gained helping a young friend some years ago–during lunch.
Because Chicklet's daily commute is a walk, she doesn't ride the bus enough to justify a pass. So, I loaded the card with twenty dollars. (The total cost was twenty-five, since the card itself costs five dollars. Don't get me started.) Later that day, I logged on to ORCA site, registered the card, and set up autoload to add $10 whenever she ran out of money.
Chicklet was really, really excited to get her own card. (Though I'm not sure she liked it as much as this one.) We wrote her name on the back in black sharpie, and she used it for the first time on a trip to the Seattle Center to meet up with some lifelong friends. It took her a couple of tries to get the hang of tapping (and to figure out what the different beeps mean), but within days, she was wielding that card like a pro.
Yay! Except…
Chicklet has no place to keep a transit card. At six, she does not carry a wallet or purse and only carries her backpack to school. I anticipated this issue and so bought her a lanyard with a card holder when I bought her the card.
The lanyard is a great place to store the card (and has the added bonus of providing a place for us to keep the school ID she never needs), but it doesn't address the more critical six-year-old challenge: She isn't the best at keeping up with stuff.***
In the interest of not losing (or having to remember) it, I carry the lanyard in my bus bag, which I always have with me. When we go somewhere on the bus, I get it out of my bag; she wears it while she needs it, then gives it back to me.
We still don't have a solution, other than buying another card, for when she travels with her dad. Sometimes, we remember to do the card hand-off in advance. Most of the time, we don't. And, despite my precautionary measures, we have already managed to lose one card.
The details of the loss are not important–especially since we still have no idea how it occurred. What is important is that, after a week of paying cash, hoping it would resurface, I made another trek to the Metro offices.
The first place I visited was the lost and found. Despite the fact that her name was written on the back, the man at the desk said he could not look for the card without the eight-digit card number. Of course, I had no clue what the card number was. And, of course, he could not look it up from his desk. For that, I had to visit the pass sales office.
The woman at the pass sales office was able to look up Chicklet's card, and when she did, she discovered that it was not a youth card but an adult card. (Apparently, it is common for youth cards to mysteriously get converted to adult cards when an adult loads money on the card online. And also, no one really knows how to prevent this from happening.) So, even if I found the card, Chicklet would not be able to use it. (Apparently, despite all this unintentional online card-flipping, there is no way to intentionally, with the help of Metro staff, convert an adult card to a youth card.) She recommended that I purchase another card.
I did buy another card, but unfortunately, the woman I was working with was not able to transfer the balance from Chicklet's lost card to her new card. (The person authorized to do that was away at lunch.) She registered the new card for me, in hopes it would prevent the inexplicable youth/adult mix-up (she was doing her best to help, bless her heart), and promised that my balance would be transferred by the end of the day.
A month later, the balance has not been transferred. But, so far, weeks after I set up autoload online, the new card is still registered as a youth card. And so far, we've managed to keep track of it.
But I've taken a few additional precautionary measures, just in case.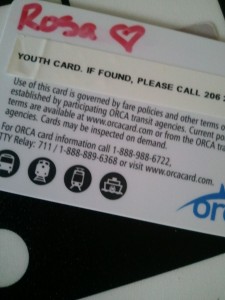 *******
*Actually, in an ideal world transit would be free. This would just be a decent scenario in the very broken world we live in.
**An e-purse is an electronic account from which a fare is deducted every time you use it.
***For context: She has managed–more than once–to lose a pair of glasses that were attached to her face.