Back in April, the Bus Fam attended the Healthy Kids Day extravaganza at Meredith Matthews YMCA. Among the SWAG we took home was this handy little "ouch pouch" from Group Health.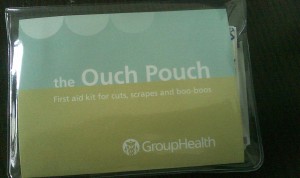 It's hard to tell from the photo, but it's about the size and weight of a package of Kool Aid. Of course you know where it ended up.
A couple of weeks later, a family friend gave Chicklet and Busling a basket of Easter treats. It was a huge basket with tons of candy and fun, plastic toys—in other words, something we would never have bought for them ourselves. They were thrilled.
The best part from my perspective (given that the basket contained no chocolate), was this adorable little set of sand toys.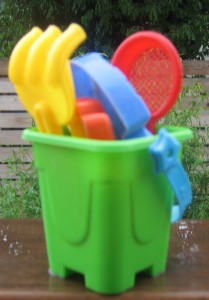 It's got everything kids like to play with at the beach—bucket, shovel, rake, sifter, sea-themed molds—but it takes up only slightly more space than a kid's cup.
Which brings me to last Friday, the occasion of our little friend Miles's first birthday party. Since the celebration was being held at Madrona Park on a sunny day, we wanted to be ready for beach fun. We traveled to the party (on the 2) with only the bus bag and one small additional bag, which contained: food to share, a gift (books, of course), the tiny beach set, towels, sun hats, and sun screen. We also carried an additional package (books again) for the first half of our journey. (We stopped at the post office on the way to mail a belated Father's Day present to Busling's Godfather.)
I digress.
During the festivities, both Chicklet and Busling managed to take some pretty good spills. (They're learning the hard way that running and sandals don't mix.) Fortunately for them, their mama knows how to pack a bag.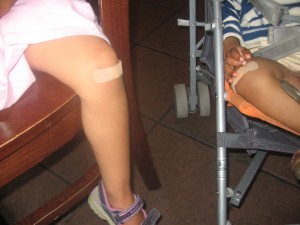 Alki, here we come!