As I've mentioned before, bags are important to bus types. After footwear, a bus rider's bag is probably the single most important accessory (equipment?) she owns. And yet, it's been years since I've had one that worked well for me. Since Chicklet was born, I've been looking (not actively, but still) for a bag with the following attributes:
• Ability to carry baby/kid stuff and adult stuff
• Simple, but with enough compartments to make frequently used items easy to access
• Professional in appearance (for those times I'm traveling without children)
• Comfortable to wear with a baby in a pack
I finally bought a new bag in December. I let go of the last requirement, since I won't be wearing Busling much longer (more on that very soon), and since all the bags-for-baby-wearing options I found seemed impractical for other purposes, not especially easy to use, and, um, ugly. The new bag has adjustable straps, which are useful but not as sturdy as they could be. (The adjustable strap was actually the source of my beloved pre-baby bus bag's demise.) And, though it's professional and reasonably attractive, it's definitely not my style. All that said, so far, I'm mostly satisfied.
For those who'd like to know, here's what I keep in it.
• At least one compact, age-appropriate book for each child. Since books are our most-common form of ride entertainment, I tend to rotate them frequently. (Thanks, SPL!) I don't usually bring toys because they take up space, are easily dropped (try picking up a block from the bus floor with a baby and a bag on your lap), and don't really entertain an antsy child anyway. Instead of worrying about bringing a lot of distractions, I take advantage of the built-in distractions of the bus, scenery, and fellow riders. It does require some effort (more on this later as well) but has so far worked for me.
• A small pad of paper and a box of erasable colored pencils for Chicklet. She uses them only occasionally when we're out, but since they take up very little space and come in handy if I need to jot something down and my phone is not cooperating (see below), they're worth including.
• Bubbles! These are great for passing the time waiting outside and (again) compact and portable. Just be sure not to mix them with the main contents of your bag.
• Non-perishable snacks. Busling is, for some reason, obsessed with raisins. Since they're very portable and healthy (and also a favorite of Chicklet's), they always go in the bag. I also usually bring some kind of granola/energy bars for Chicklet. These I save for times when she's walked an especially long distance or we've stayed out longer than expected. She thinks of them as dessert, so they work well as bribes—I mean, good behavior encouragement. Oh, and sometimes I bring animal-shaped mini crackers. And teething biscuits.
• Diapers and associated paraphernalia (folding changing pad, wipes, lined "wet bag")
• Minimal extra clothing. I bring pants and underwear for Chicklet—just in case a restroom emergency strikes when we're not near a restroom—and an undershirt and one-piece outfit for Busling. (Chicklet now has her own bus bag and could theoretically carry her own extra clothes, but since we don't always bring her bag, it works best for me to keep them in mine.) I've never actually had to use the extra garments, but I'm sure I'd have a need if I ever traveled without them.
• Umbrella. Yes, real Seattleites do carry them. Mine's compact and has a cover (so I can avoid loss/wet-umbrella on the seat bus foul) and return it to my bag when wet. The good news is, my new bag has two waterproof, insulated hidden side pockets, so it's OK if I lose the cover.
• Smart(ish) phone. My phone isn't fancy (and honestly doesn't work very well), but I mostly only use to tell time and find out when the next bus is coming. And, of course, for the occasional call.
• Wallet. It's got the usual stuff: money, ID, library card, Orca card, and et cetera. I keep it in a very snug front pocket (tough for a thief to slip out) but perfect for effortless hip-taps on the Orca card reader.
• Keys
• Antibacterial gel. Ahem.
• Hand lotion
• Mini package of tissues
• Chapstick
• Gum. Hey, fellow passengers appreciate attention to these matters.
• Rain bonnet–just in case I put some effort into my hair
• Digital camera. You never know when you'll pass a guy with a snowboard checking a schedule.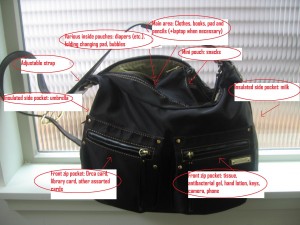 I keep this stuff in my bag at all times (restocking when necessary) and add only milk (which I keep in the other insulated side pocket) and a thermos of water at the last minute. This makes the ordeal of getting out of the house with two kids as simple as it can be.
All of this fits well and is easy to access, and the bag is not at all heavy. If I'm going out alone (to a meeting or some other business-related event), I can easily add my laptop without reconfiguring.
Your turn. What's in your bus bag?