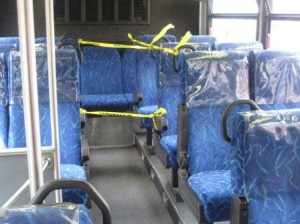 This morning, Bus Nerd and I realized that our entire Saturday was wide open—no birthday parties, family events, volunteer commitments, or pressing chores (OK, some pressing chores)—so we decided to take our nerds-in-training to the Science Center for a few hours. It had been a while since we'd gone (last time was November), and I've had four free passes burning a hole in my bus bag since last spring.
The morning started off well enough. The whole fam was packed and ready to go slightly early, so we got to spend a few minutes playing at the park while we waited for the 8. The bus was full but not crowded, and we were able to find three seats together in the front section. Nerd and I shared reading duties until somewhere around Miller CC, when a little old lady offered Chicklet a small bouquet of daisies.
In the final stretch of the ride, baby Busling, who had spent the early minutes hollering, "Daddy, read dat boot!" at Bus Nerd, became unusually subdued. He leaned his head back against me like he was about to go to sleep, but his eyes remained wide open. Somewhere on Denny, he burped.
I think you know what came next.
Folks, I'm no stranger to bus vomit (ahem), but today was the first time I become intimately acquainted with it.
I turned Busling's body inward just in time to ensure that any of the regurgitation I wasn't able to catch in my hands (oatmeal, take II–ew!) landed on my lap (and unfortunately, Chicklet's) instead of the aisle and several of our fellow passengers' knees. Then, Bus Nerd and I took advantage of our well-stocked-yet-lightly packed bus bag and ready-for-anything bus parenting skills and sprang into action. Here's what we did:
1. Bus Nerd got out the baby wipes and used several to scoop Busling's breakfast out of my hands.
2. I found the plastic bag I always carry with me* and dumped the foul wipes—as well as the jackets of the three of us who were vomited upon—in there.
3. Bus Nerd used more wipes to clean off the kids as best he could (and do a quick once-over on the seat, just in case), before it was time for us to get off.
4. At the Science Center, I took the kids into the bathroom and used (perhaps for the first time ever) both of their changes of clothes. (It had been so long since I packed them, Chicklet barely fit the pants that were in there for her.) I then threw away the icky wipes and added their dirty clothes to the (now quite foul) plastic bag.
5. Since I don't carry a change of clothes for myself (after today, I might start), I washed off my jeans with a soapy paper towel. Then we all washed our hands.
As it turns out, Busling is not sick; he just suffered a bout of motion sickness. All of us managed to have a great time at the Science Center, foul plastic bag and all. We even enjoyed a spontaneous picnic lunch and some live music at the Bastille Day celebration near the fountain.
I'm hoping that the incident was just a fluke. As someone who suffered from motion sickness well into early adulthood, I wouldn't wish that on my kid. And, as someone who is not particularly fond of being vomited upon, I wouldn't wish it on myself. But, just in case, we made a point not to sit in the side-facing seats on the way home–and I kept a new plastic bag at the ready for the entire ride.
***
*I don't think I've discussed this enough. I couldn't find a post–or even a paragraph–devoted to the plastic bag's many uses. It's coming soon, I promise.