I am not a fair weather bus chick. I love my city (rain, clouds, and late-spring chill included) and my carfree life no matter the season. I'd be lying, though, if I said that I didn't prefer getting around during time of year when it's light both early and late and there's a high probability of sunshine.
During the months between May and October (aka, bus chick high season) life on the ground is lovely–far, far prefarable to life trapped inside an exhaust-spewing metal box stuck in baseball traffic. We walk more than we wait (truth be told, except in extreme weather conditions, I do that year round), worry less about how late we get home (sadly, bedtimes still exist during DST), and spend as much time as we can outdoors.
On a beautiful day, there is plenty of occupy us in our own corner of the city. We are spitting distance from five great parks. We can walk to a city pool. We can take the 27 down to the lake and put our feet in the water. (Almost as often, if we have time, we walk all the way down there–and back.)
But sometimes, much as we love our neighborhood, we get tired of beating the same paths. Sometimes, on a sunny day, we have a hankerin' for an adventure. Today was one of those times. So, we bus types rose early, threw on some playin-outside-in-the-sunshine gear, and did what we do best.
First, we caught the 27 to 3rd & Yesler, then walked to Pier 50 to catch my beloved Water Taxi.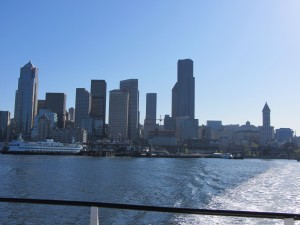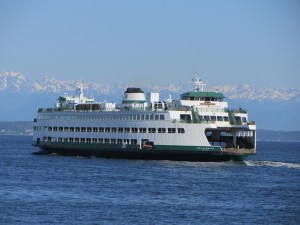 Busling love, love, loves the retro paint job on "his" Space Needle.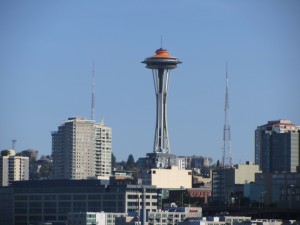 It was Chicklet's job to find the mountain. Hello, Tahoma!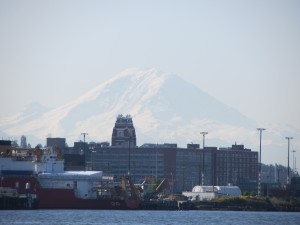 On the other side: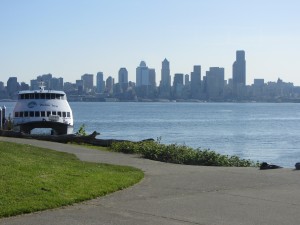 At Seacrest, we caught the (free!) Dart shuttle to the Admiral District.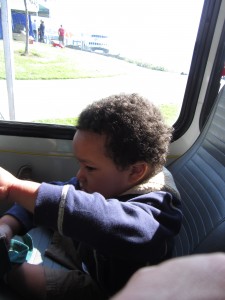 We stopped at the church where my mom's ashes are buried to bring her some early Mother's Day flowers.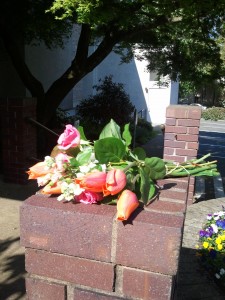 Then, we played (and had a snack) at the park near Hiawatha Community Center, which is one of Chicklet's favorites.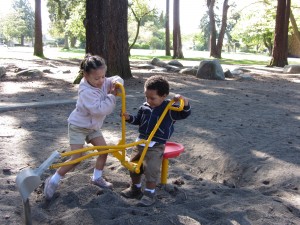 By the time we caught the shuttle down to Alki, it was still early.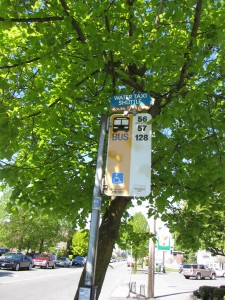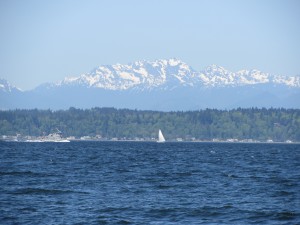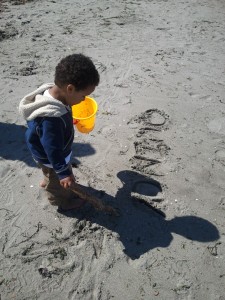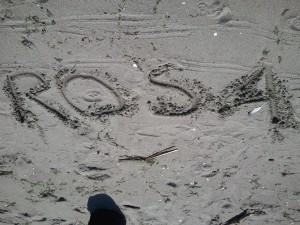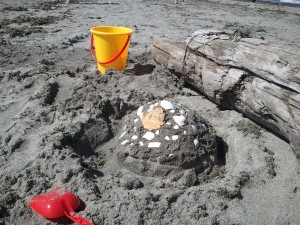 After plenty of good sand and water time–and after a quick stop at the cafe formerly known as Alki Bakery–we caught the 56 downtown.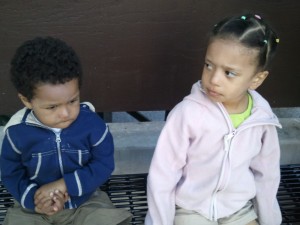 Despite an extra-long wait at 3rd & Yesler (27 was 18 minutes late, and nothing else was coming), we made it home in time for Busling's nap.
Perfect, perfect day.