Yesterday, a local public radio station aired a story about the Seattle roots of Bus Driver Appreciation Day (now known to everyone except me as Transit Driver Appreciation Day). Eight years after Hans Gerwitz first proposed the idea, the day is celebrated across the US and even in a few other countries. Honoring the work of bus drivers is not a tough sell.
But the thing is, pronouncing one's appreciation for bus drivers is not the same as showing appreciation. And it's actually pretty hard to figure out how to do something nice for a bus driver. Every March, there's a flurry of social media action and lots of official acknowledgement; a number of municipalities have even issued proclamations. But very little of that professed appreciation actually trickles down to drivers. Most of the time, we riders come in contact with them while they're doing they're difficult, demanding jobs, so there isn't time for much more than an enthusiastic, "Thanks for the ride!"
This year, I was determined to do something a bit more meaningful. So, I found an energetic and enthusiastic partner — my friend Myesha, who also happens to be a licensed massage therapist — and the two of us spent a decent chunk of this rainy holiday parked (under a borrowed pop-up tent) at Mount Baker Transit Center, offering drivers on layover free chair massages.* We figured, given the nature of their work, they probably have their share of aches and pains.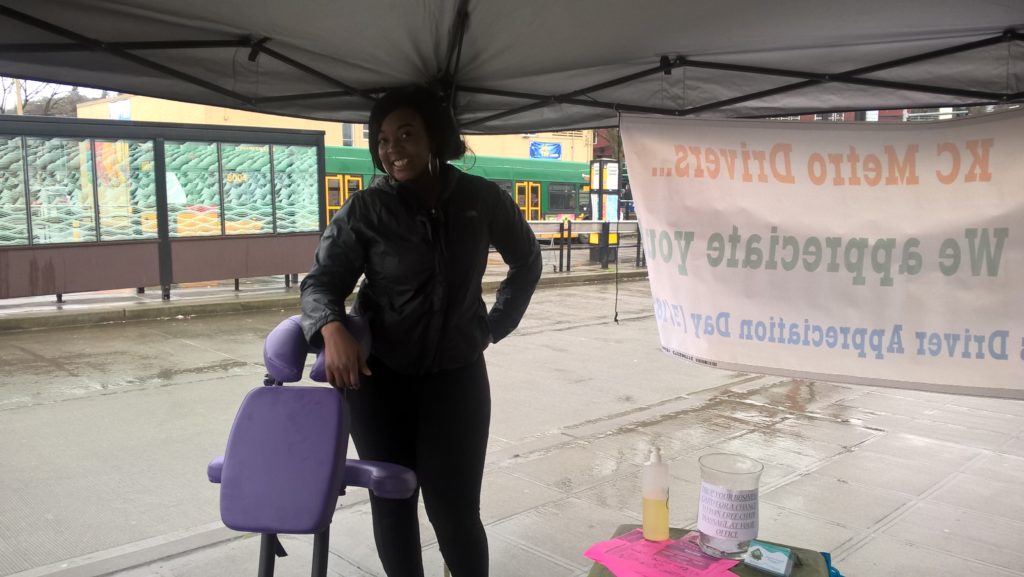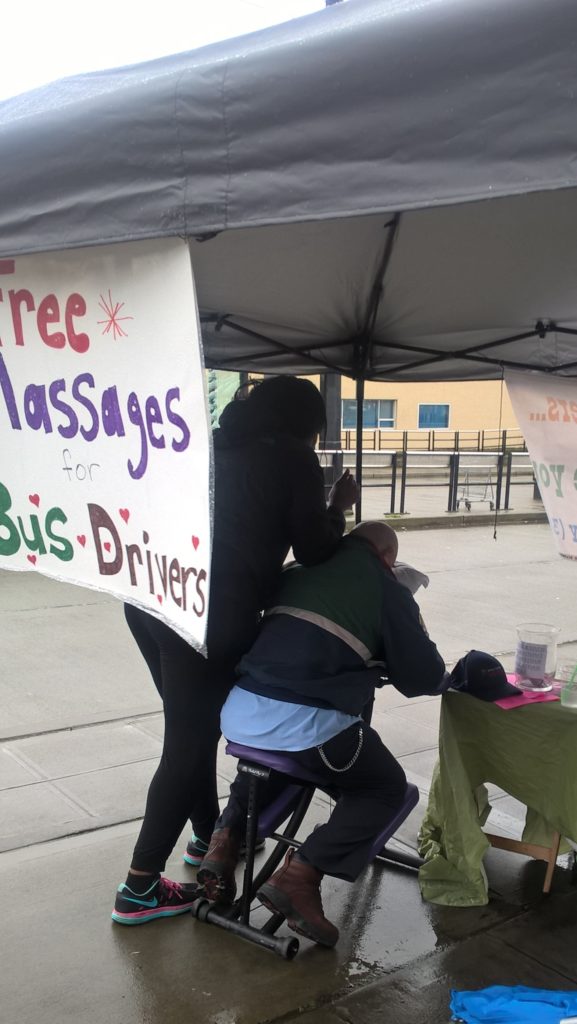 I'm not sure how many massages Myesha did today, but I'm guessing it was fewer than a dozen. Most of the massages were shorter than we would have liked, because the drivers had only a few minutes of free time. Still, I hope we brought some joy (and relief) to the drivers who took us up on our offer. We certainly enjoyed the time we spent with them.
Now that I've gotten my feet wet, I'm ready to build on the momentum. Fellow bus chicks, let's make BDAD/TDAD 2018 the best, most creative, most love-filled, most driver-pleasing holiday ever. Let's work with agencies and with other riders to come up with delightful surprises that do more than pay lip service to our appreciation. Next year, let's really do this.
Who's with me?
***
* Since I wasn't giving the massages, I was the official Bus Driver Thanker. I also kept track of the time, so that everyone made it back to their vehicle on schedule.