In late June, after SPS finally released its hostages for the summer, our family made its annual pilgrimage to Bus Nerd's hometown of Detroit. In the past, our visits have mostly been confined to Detroit proper and its nearby suburbs, but this year, at my insistence, we ventured out a bit.
I had been dying to visit Mackinac Island, a small island in Lake Huron between Michigan's mainland and its Upper Peninsula, ever since I learned of its existence a few years ago. Because of its beautiful setting, old-fashioned vibe (think quaint Victorian village), and preponderance of fudge shops, Mackinac draws a lot of tourists — almost a million every year. Under ordinary circumstances, I would not be eager to visit a crowded island that bills itself as an homage to a "bygone era"* and boasts a giant military fort (complete with regularly firing cannons) as one of its main attractions. But in this case, the circumstances were not at all ordinary: Mackinac Island does not allow cars. (!!!)
When "horseless carriages" came on the scene in the late 19th century, Mackinac was already a popular tourist destination. Residents did not appreciate the presence of motorized vehicles on their lovely island; they were noisy and dangerous, scared the horses, and generally disturbed the peace. So, in 1898, the municipality formally banned automobiles. The ban remains in effect today.
The idea of experiencing life without cars, even in a somewhat contrived setting (and despite the irony that I had to ride in a car to get there), was too compelling to pass up. So I dragged my crew all the way up there for a three-day visit.
And, what a beautiful three days!
To my children's delight, there are still plenty of horses on Mackinac. They pull the "cabs" and sightseeing carriages that ferry tourists and also do the bulk of the hauling and delivery. But bikes are the most common form of transportation on the island. Bikes are everywhere: available for rent by the thousands, parked in front of every business, covering porches, filling the streets. It is amazing.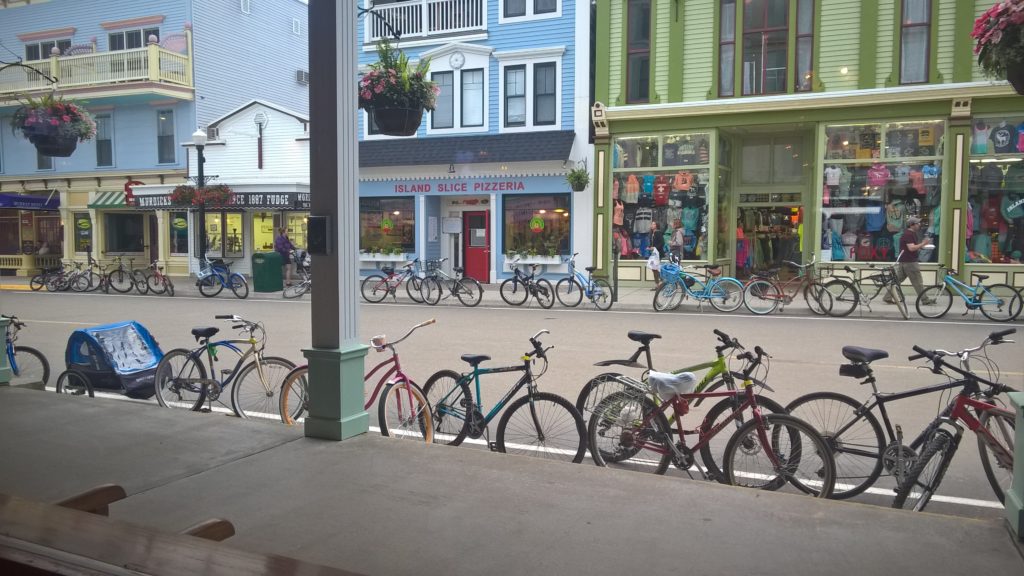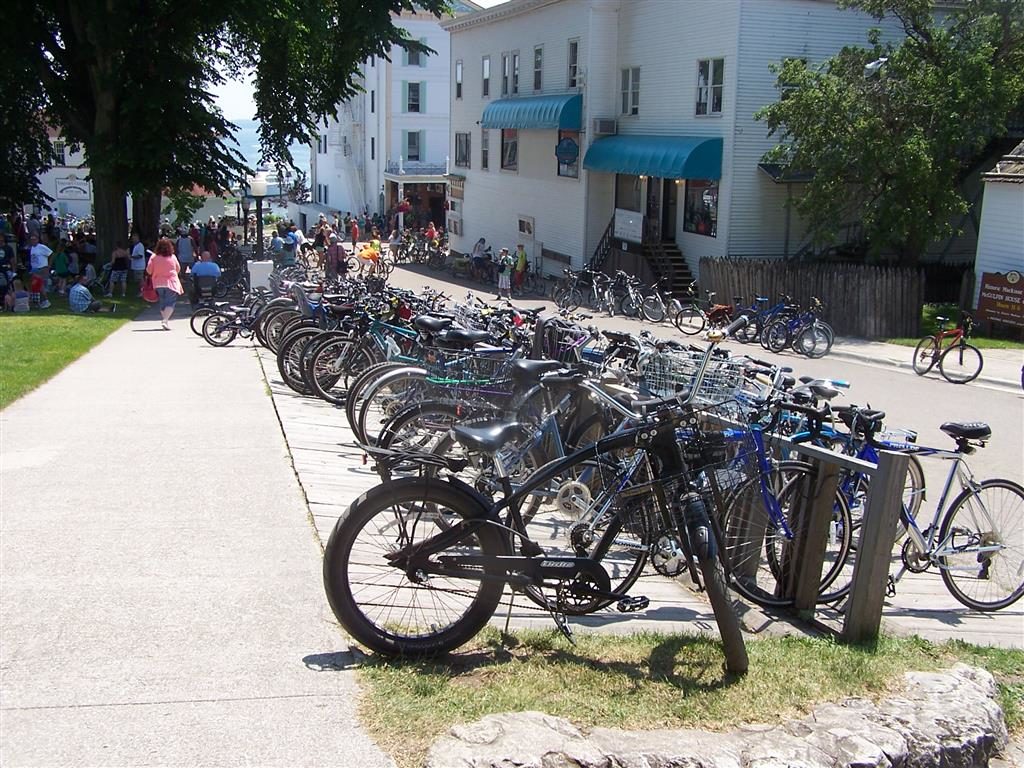 One of the most striking things about Mackinac was the quiet. Without the constant roar of traffic, you could hear the sounds of people. There was a band playing at the public park near the ferry dock on the evening we arrived, and the sound carried all over town. The quiet also allowed us to enjoy the near-constant clip-clopping of horse hooves.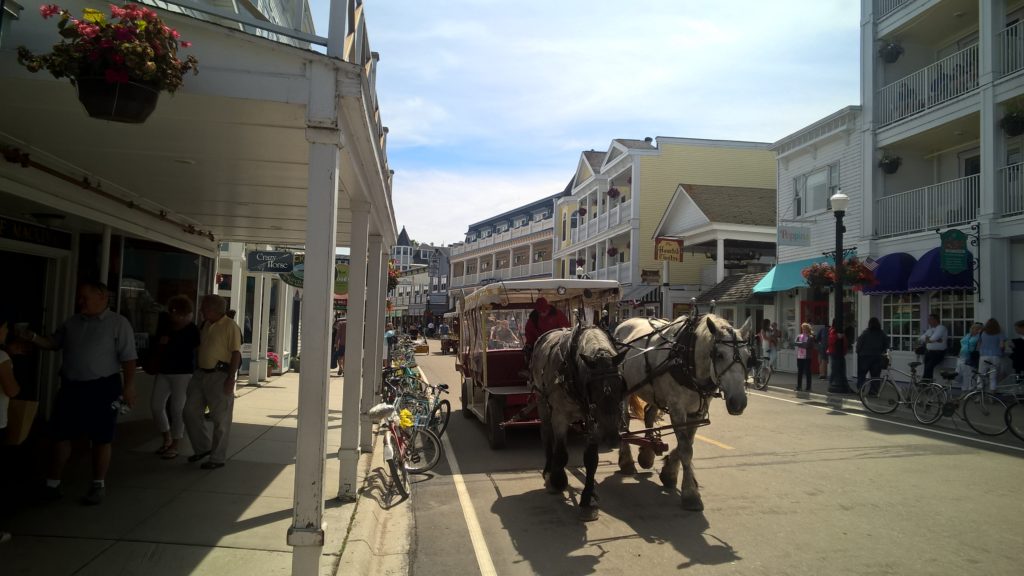 Our first morning on the island, we got up early and biked around its perimeter on M-185, the only US highway where motor vehicles are banned.
I don't have the right words to describe how it felt to just ride, without the fear, without the constant vigilance. I never had to worry about a car crossing the center line, or following too closely, or turning into us in an intersection. In other words, I never had to worry about dying (any more than I usually do, that is) in the course of my travels. Instead, I focused on the beauty of the island, the feel of the wind on my face, the pleasure of zooming along under my own power. The kids loved it, too. They never had to get off their bikes to cross a road or look and look and look and listen and then tiptoe past the parked cars and look again. All of us rode freely and with total joy.
After that first ride, I was desperate to get back on a bike ASAP. We spent more than we should have on bike rentals, because I could not get enough of that feeling of freedom and exhilaration. On our second rental, I even let Busling convince me to skip the helmets, since, as he pointed out, we were the only people on the entire island he'd seen wearing them.
Those few joyous rides made me realize that I had never, not a single time in my 45 years on this planet, ridden a bike without worrying about encountering a car.** And they reinforced the fact that what stops me from riding more often when I'm at home is not helmets or rain or even hills; it is the absence of a safe place to do it.
Since we've been back in Seattle, I've done it anyway, finally fulfilling the promise I made to myself back in 2016. We replaced the kids' old bikes with bigger ones (with gears and hand brakes!) and so far have ridden almost every day this month. Sometimes it's just in circles at our local park, but sometimes, it's to actual destinations. We've ridden to church on the Greenway two weeks in a row and have made several bike-based grocery runs.
I know I won't be able to recapture that feeling I had on Mackinac. I also know that transportation infrastructure in cities that exist for reasons other than recreation will necessarily be very different from transportation infrastructure on a vacation island. Still, Mackinac Island has a lot to teach us about how to make our cities more livable for all. In addition to pretty postcards, I brought home with me a commitment to be part of a culture change that will lead to more safety and freedom in the "real" world.
See you in the streets! (Actually, probably on the sidewalk.)
***
* Those of us whose oppression is inextricably linked to those bygone days tend not to romanticize them. The current situation is bad enough.
** There were a few times when one of my parents put bikes on (or in) the car and transported them to a recreational path, but don't count those.