On November 19, 2019, my friend, Annie Lamb (known to me always and only as "Mrs. Lamb"), died unexpectedly. Today would have been her 80th birthday.
Annie Louise Cheatham came to Seattle an orphan. Her mother, Nina, died from an infection, which developed after an injury she sustained while washing other people's laundry. I'm not sure how or when Annie's father, Hiram, died.
After they lost their mother, Annie and her sister, Margaret, came to Seattle to live with their older brother, who was in the navy. In 1960, she married Thomas Lamb. In 1966, the couple bought a home on Madrona Drive, across the street from a 2 stop.* For the next 53 years, Mrs. Lamb was a 2 rider. She rode the bus everywhere—to shop for groceries and clothes and household items, to take her children to school and appointments, to work, to visit friends and family.
I met Mrs. Lamb in 2005, when I started attending Good Shepherd, the church where she'd been a member since the 60s. Over the 15 years we shared a congregation, I grew to love her. Here are some of the reasons why.
She kept it real.
Mrs. Lamb rarely smiled. She would call you out in a heartbeat. To be honest, she wasn't particularly nice. But Mrs. Lamb was kind. She showed up at my mother's funeral when we were little more than acquaintances. She always remembered my children's birthdays. She knew about Chicklet's political plans and regularly brought her magazines with articles about female candidates. When my mother-in-law was suffering from a serious illness in 2018, Mrs. Lamb made her a blanket and prayed over it before she wrapped it up for me to send.
She became the elder she never had.
As an orphan, Mrs. Lamb didn't have anyone to look to for advice or help, to ask about family history or lean on in a crisis. But she became the rock for her own family. She was able to be there for her four children—Michael, Alison, Jason, and Vanessa—well into their adulthood. When they had families of their own, she become a beloved grandma, and, eventually, a great grandma. She and her sister Margaret** kept their connection throughout their lives, acting as co-matriarchs of the ever-expanding Seattle branch of Cheathams.
She did what needed to be done.
Mrs. Lamb was not much for fanfare or attention. She was the person working behind the scenes, making sure things got taken care of. She was a deacon at the church and a member of the altar guild. She sewed the banners that we hung in the sanctuary. She watered the plants and made sure everyone separated their trash correctly. She decorated and cooked for almost every gathering, from big events like the annual Advent tea and Black History Month soul food dinner, to smaller gatherings like baby showers and birthday celebrations. She never expected (or wanted) recognition. She just did her part.
She loved the bus.
Many members of Good Shepherd ride the bus. But Mrs. Lamb chose the bus. She called herself "Metro Annie," because for her, the bus was more than a means to an end; it was an extension of her community.

She got to know the drivers and the other riders. When she learned about Bus Driver Appreciation Day, she printed out transit-themed thank-you cards to pass out on the holiday. She looked out for unhoused people who found refuge in bus shelters, often bringing them water, blankets, and other necessities.

She took care of stops, picking up trash whenever she saw it. In 2006, she organized our congregation to adopt a stop on 23rd Avenue, around the corner from the church. She faithfully picked up litter and emptied the stop's trash can until Metro removed it—the can, that is—a couple of years later.

She had an encyclopedic knowledge of buses and could tell you which route to take to get anywhere. She wore comfortable shoes even when she dressed up. Most days, she wore a backpack, in which, among other bus chick essentials, she carried a flare.***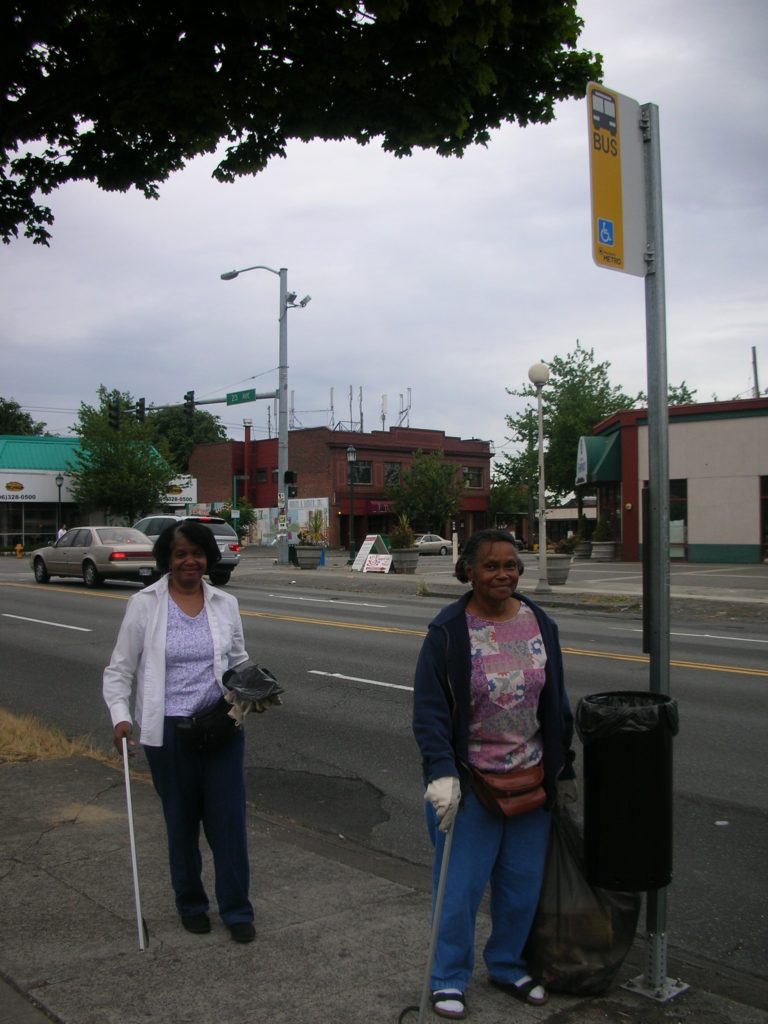 The 2 isn't one of my family's main routes, but pre-COVID, we rode it at least a few times a month. Sometimes, we would run into Mrs. Lamb on our rides, and it was always such a delight to see her in her element—with a shopping cart or a punch bowl or a bag of Christmas play costumes to drop off at the church.
When she joined the ancestors, I knew immediately how she needed to be honored. Just in time for her birthday, that vision become real. Thank you to the family of Beulah Dyer for the inspiration, to Mrs. Lamb's son Mike for the photos, to Steve Tucker and Jaivier Forward for the beautiful design, and to Dale Cummings at Metro for making it happen.
Rest in peace, Annie Louise Cheatham Lamb. The bus isn't the same without you.
Eastbound 2 stop, Union at Martin Luther King: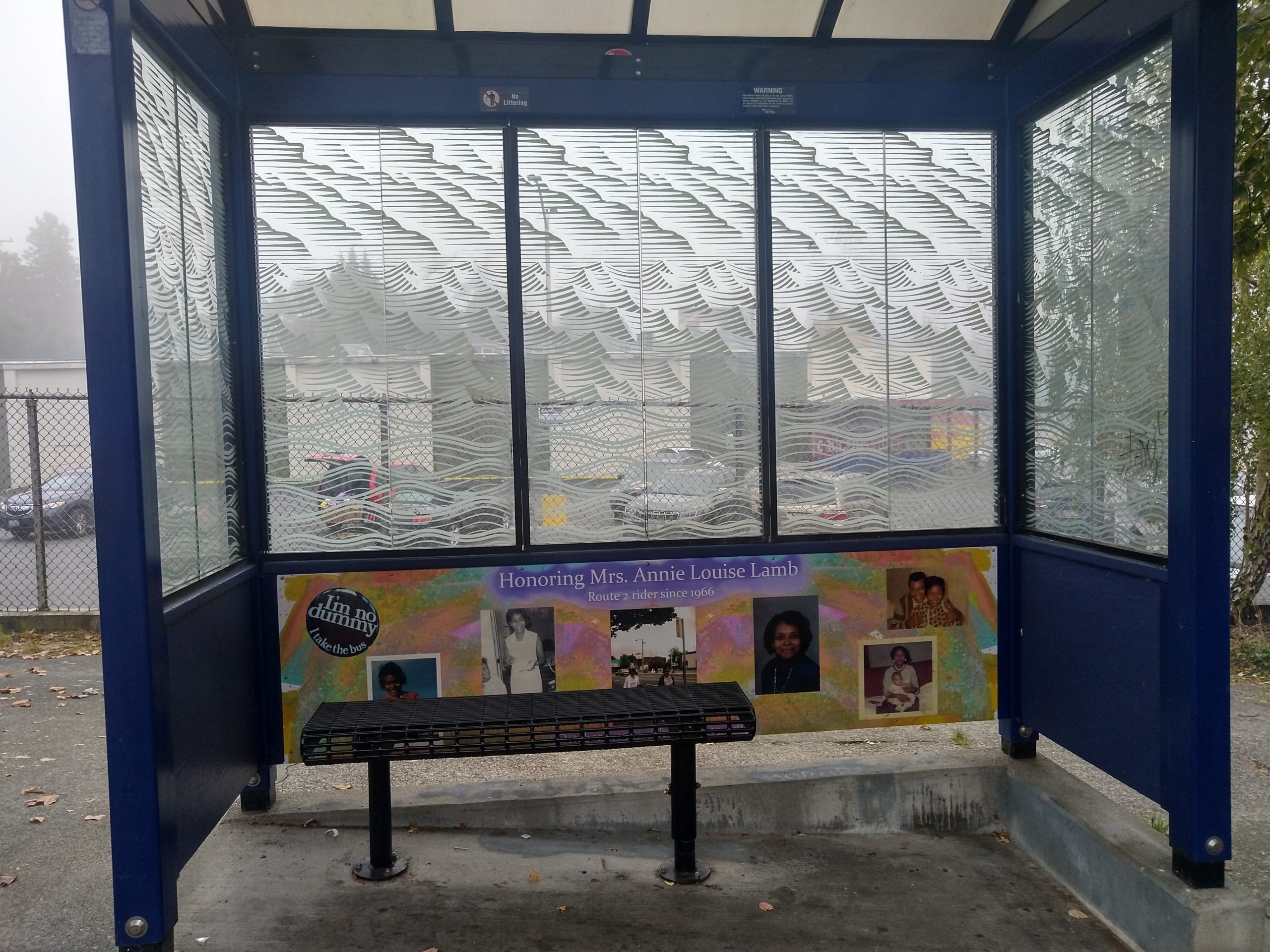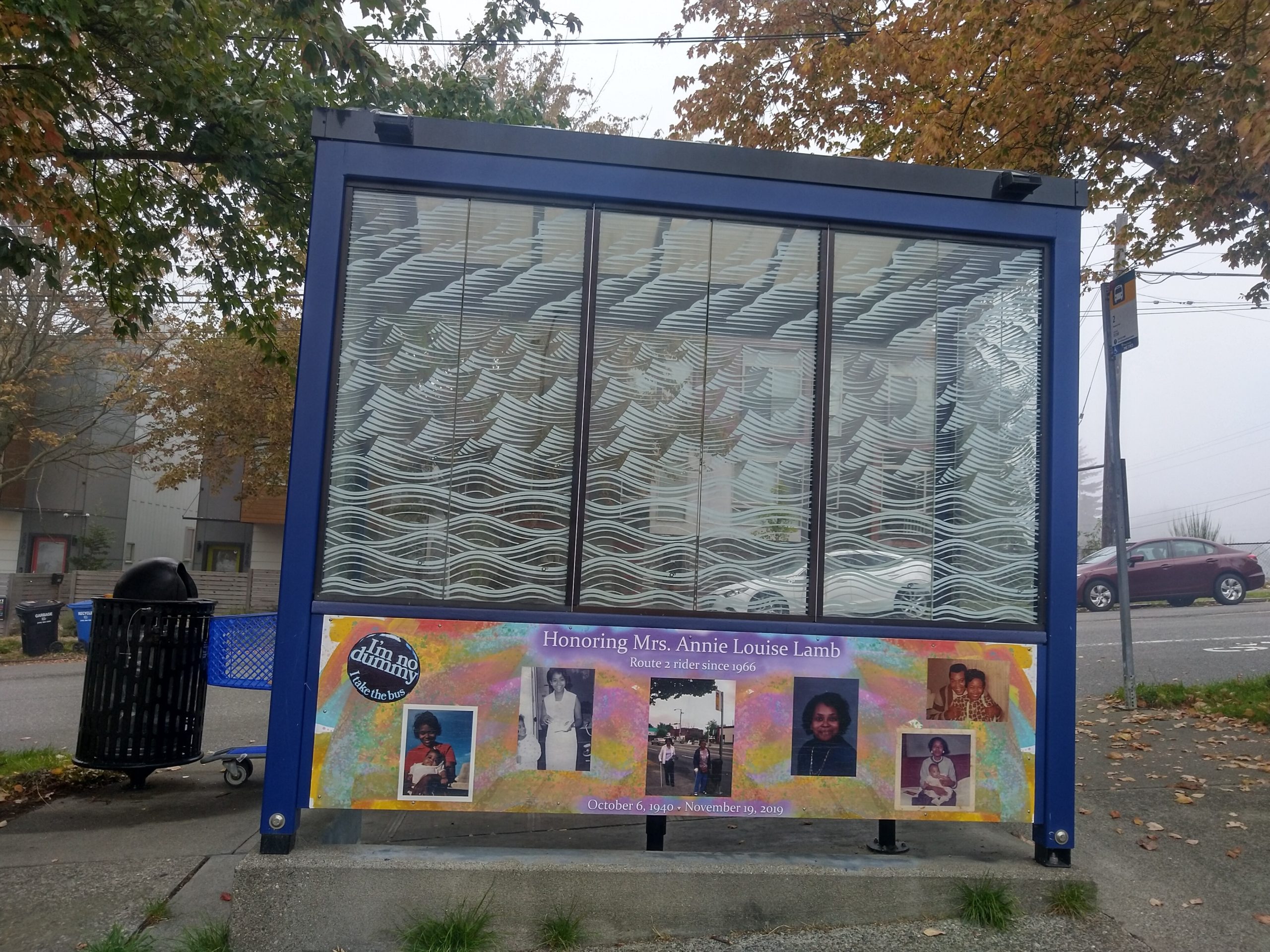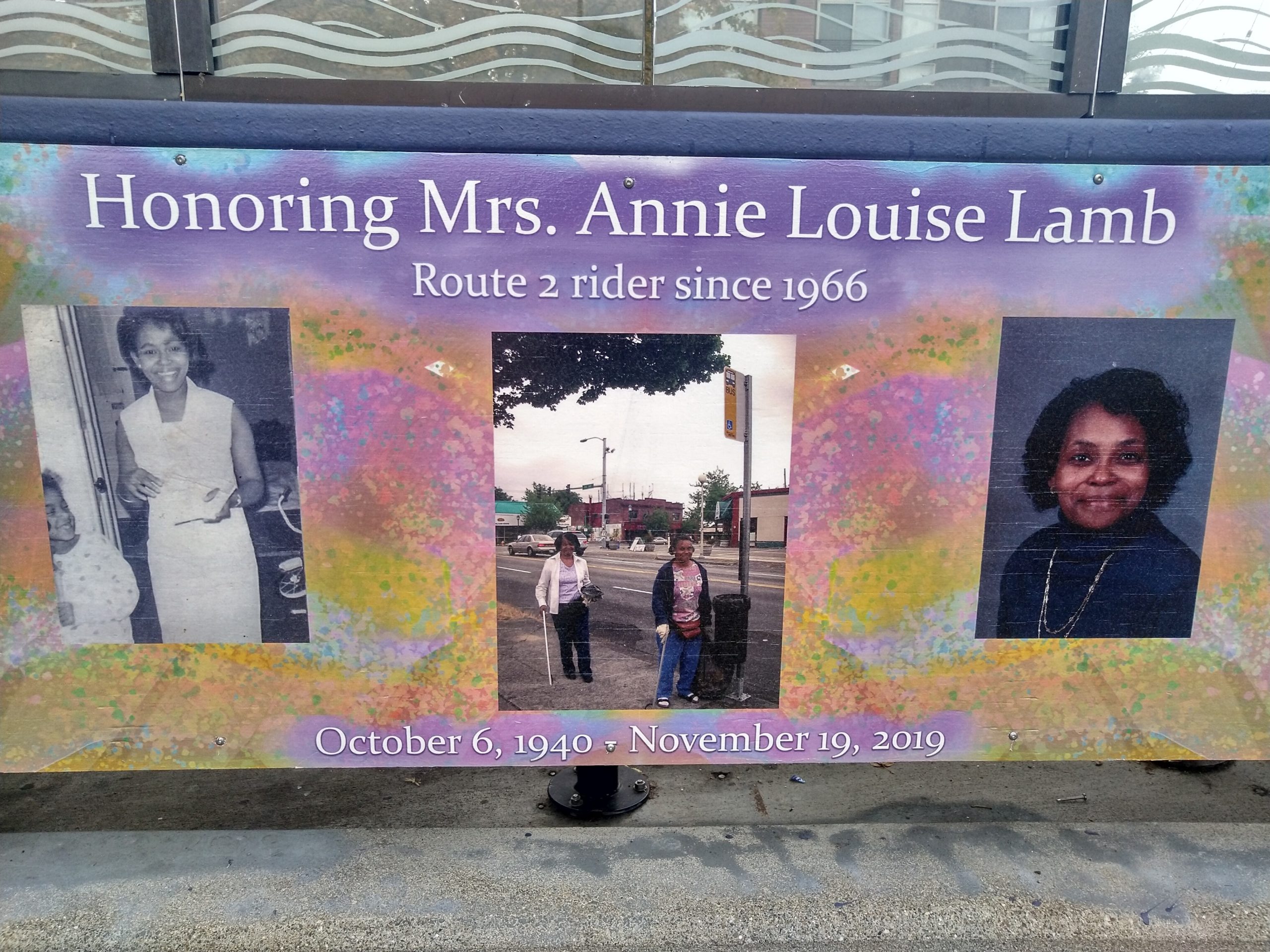 ***
*Incidentally, this is the same stop where I used to wait to catch the bus home from elementary school in the 80s. There's a good chance we waited there at the same time at least once.

**Margaret. Bell was an amazing woman as well. She was the sweet to her sister's salty, and she was also a bus rider. She died in September of 2019 and is missed by many, including me.

***To make herself visible on dark winter evenings